I have had this shotgun a few years. It is my daughters shotgun but I decided to press it into service as a turkey gun. I have never been a huge believer in 20 gauge for straight up turkey slaying, but a few on here pushed me into trying some of the newer TSS shot available and I gotta say I am elated with the performance.
I grabbed a box of Federal 8-10 TSS 3" 20 gauge loads. Pulled out some old cardboard and set it up at 35 yards. Figured if it patterned decent I would be good to go for most of my turkey hunting. I tried the first one with the Kicks Buckkicker Buckshot choke.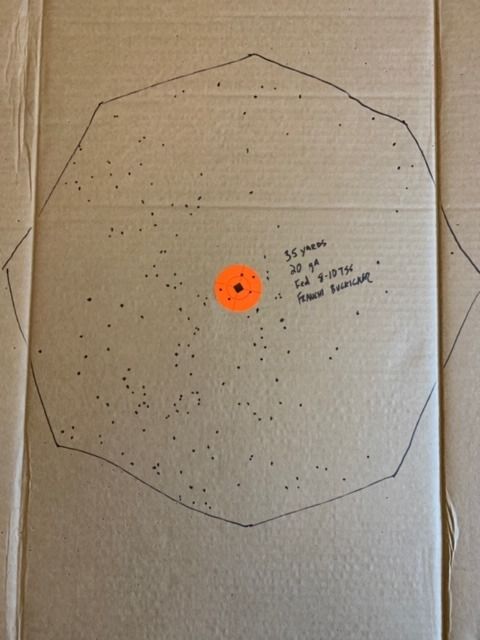 Nothing to write home about here. I was thinking this may have been a waste of 35 bucks for the shells.
Well, I unscrewed that one, put a Primos Jellyhead in it and tried again..
Now were cooking with GAS! I counted 544 pellets in the 20 inch circle with excellent distribution.
Anyhow, I posted the entire story on the hunting thread, but at about 25 paces it FLAT STONED this gobbler. I have never had a bird FLOP dead without a twitch.
I have shot quite a few birds and been around a bunch as well taken with 10 gauge lead 6's, 3.5" 12 gauge with Hevi Shot and never seen a birds head torn up like this and the light switch just turned right off.
I do believe this little 20 gauge has made me a believer. It is light and easy to carry in the turkey woods and man, I believe a 9 TSS is the same weight as a lead 5.. That's alot of juice from a 20 gauge. Call me impressed!