At the top of my favorite small game meat, and though more involved than just throwing them in a crockpot, this is my favorite way to make them and well worth it in the end.
I thought rather than just posting what I had for dinner, I'd step by step post the process. Learn how to do this correctly and if times get tough you wont ever feel poor because all you had to eat for that meal was squirrel, trust me. When I serve this to others I get reactions from best squirrel I ever ate, to If I'd have known sq's could be that good when I was growing up, there wouldn't have been any left.
Step 1. Sq's quartered into legs and backs. I throw the rib cages and short back, away.
Rinsed pieces get put in a colander to drain for 20 minutes or so. Lightly pat pieces with paper towel on both sides to get rid of any excess water before browning, so the flour doesn't turn doughy, and browns up nice. I lightly salt & pepper both sides, and a little bit of old bay.
Flour also gets a lightly seasoned with salt, pepper, old bay.
I do the browning part outside on a propane cooker so it's not so messy in the kitchen.
Cast iron skillet, with lard, butter, and some cooking oil. You can just use cooking oil but I like to add lard and butter for flavor.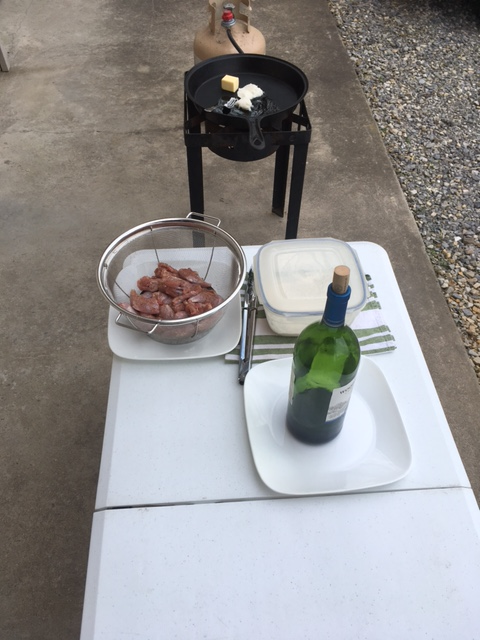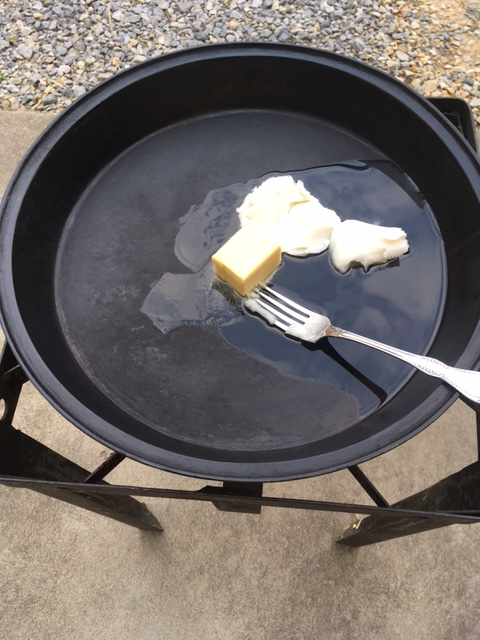 Lay floured pieces of sq in the pan with the oil at medium heat. You don't want it popping hot like you're frying fish, just hot enough that you can tell it's frying.
Resist the urge to move pieces before they're browned and free from sticking. You will just pull off the browning if you do. You also don't want them browned shoe leather hard, just nice and golden.
This is 1 side already browned, other side browning. I had another small batch of pieces I browned after this. Doesn't matter if the already browned pieces cool off at this point.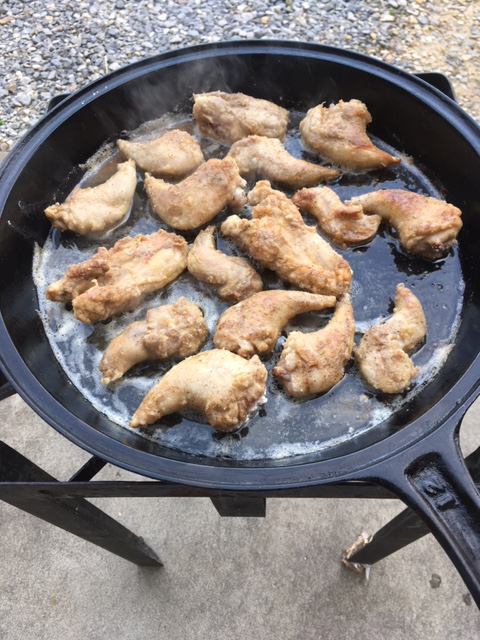 When you're all done the oil will have cooked down and you will have some stuck brownings in the bottom of the pan. This is where the wine in the picture comes in. Deglaze the pan with some wine. Little bit of heat and a fork stirring on the bottom and all those brownings come right loose.
Deglazed pan.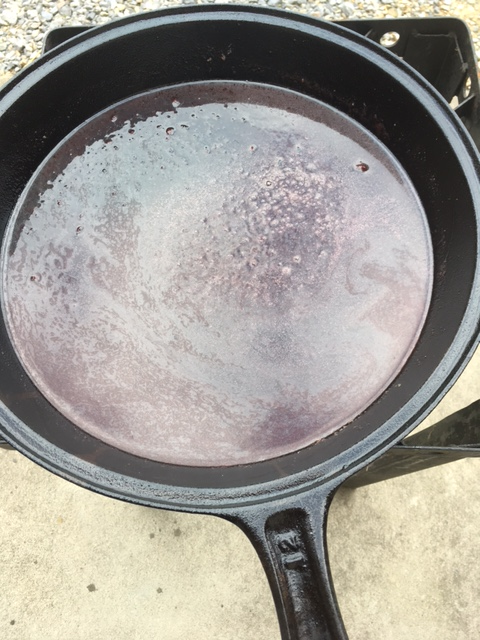 I spoon out some of the wine and add some water back in. You just want about 1/8" of liquid in the bottom of the pan. Not much. At this point you will add a cut up onion to lay in the pan to make a bed. How much onion is kind of irrelevant. Much as you want, just so the onion is on the bottom in the liquid and not the sq pieces.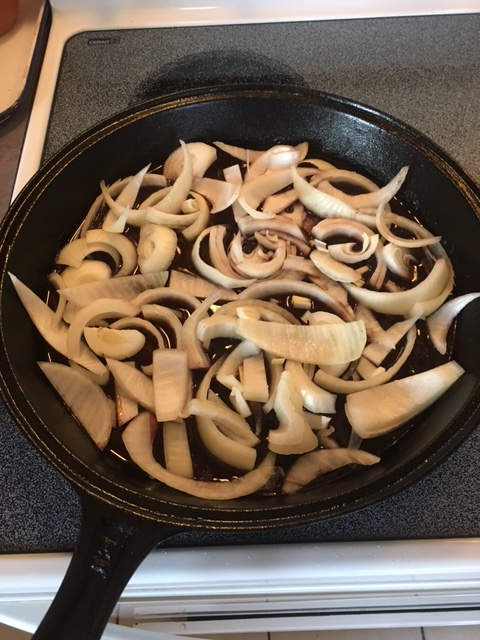 Lay the browned sq pieces on top of the onion.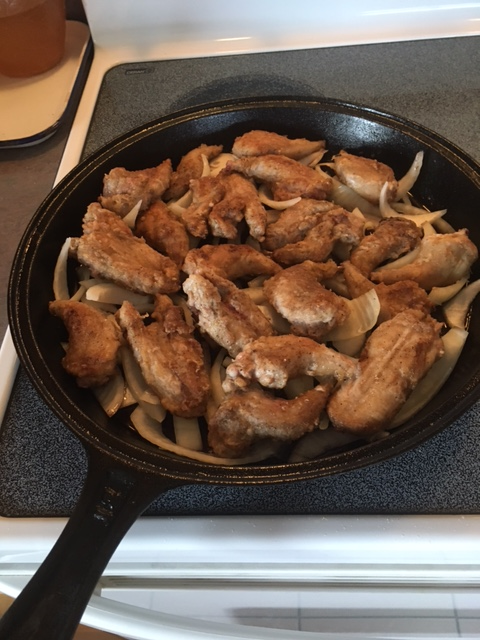 If you don't have a tight lid that fits, cover the pan on top, sides, and partway around the bottom, with tin foil. If your pan is smaller that pieces are on top of each other, it doesn't matter.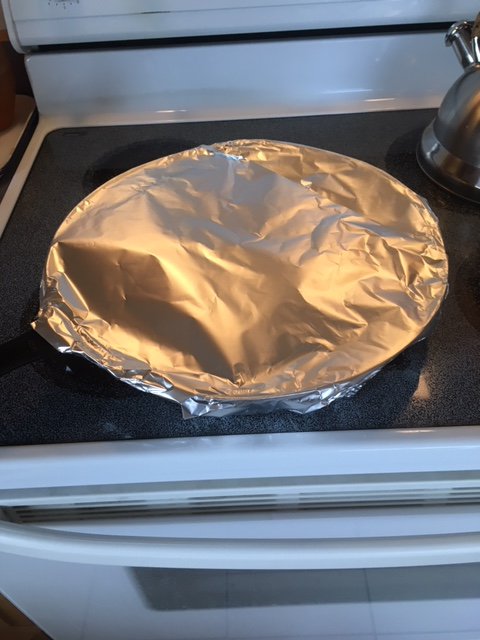 Take the foil wrapped or lidded pan and put it into the oven pre-heated to 325 degrees for around 1 hr 45 minutes. After that you can peek in if you'd like to make sure the liquid hasn't dried out. I don't. I just turn the oven off after 1 hr 45 minutes without opening the door, and let it all sit in there for another hour. It gradually continues to cook and get softer without drying out. If it sits in the oven for 1.5 hrs after turning the oven off, that's okay too.
The wine based liquid steams and moisturizes and the flavor seeps into the meat. End result is pull off the bone with your fingers soft and moist meat, with delicious flavor.
As it looks out of the oven cooked down, after 2.5 hrs.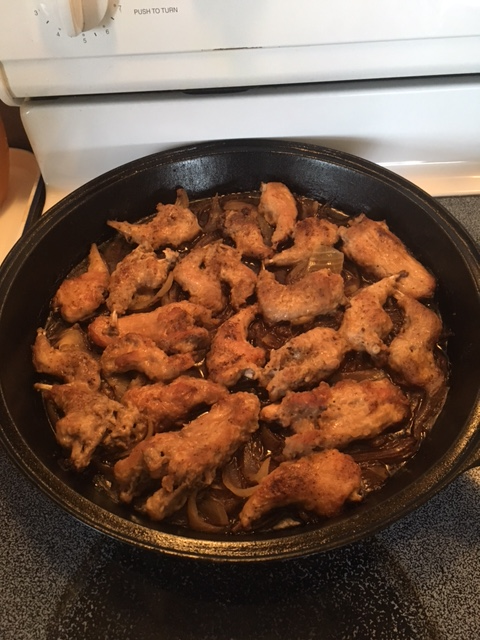 Side dishes were string beans sautéed in butter, and applesauce we canned last year.
Word of caution. Be careful serving this to youngsters. It's so soft that the tiny support bones in the legs, and the short ribs off the backs pull right off with the meat.