Rimfire season has started but up until this past week I had not fired a single shot at the Indoor Shooting Range this year. Part of the reason is I have been busy Hunting Deer not only myself but with my Grand Daughter. The other reason is I have been wanting to put a new Barrel on the 10/22 I built for this years bench rest competition at the club.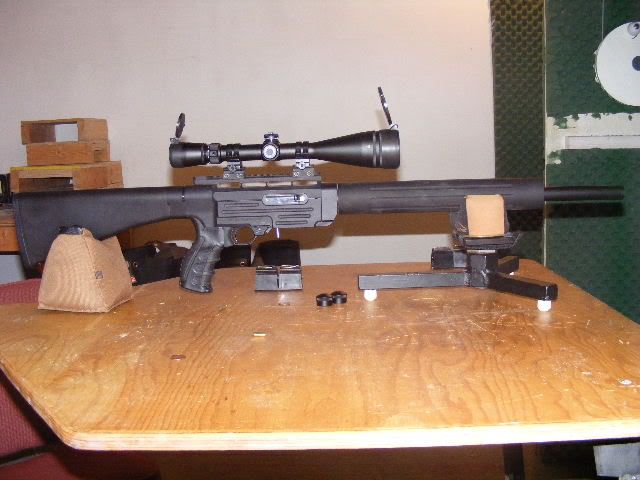 This is a 10/22 that a buddy of mine built that I bought from him this past summer. It had a Laminated Thumbhole Stock on it as well as a 20" Butler Creek Bull Barrel. Well I traded the stock and the BSA 6x24x40mm Contender Riflescope to a buddy and started to rebuild this 10/22.
The above photo is the finished product, well mostly.
I put the Barreled Action in a Nordic Components AR-22 Receiver Chassis Kit, to which I added a Model 1 Sales A2 Buttstock & Buffer Tube with a DPMS 1" Buttstock Extension. I then added a Model 1 Sales Rifle Length Aluminum Free Float Tube and a CAA UPG-16 Pistol Grip. I then sent the trigger group out to TT Shooter in California and had Todd do one of his Precision Trigger Jobs on it along with the Auto Bolt Modification, Overstravel Screw and Extended Magazine Release.
A local machinist buddy (who happens to be one of my city council members) did all of the bolt modifications for me, ie pinning the firing pin so it can not ride up when the firing pin strikes the rim of the cartridge, setting the headspace to .043" and lastly chamfering / radusing the rear of the bolt so it cycles smoother with Match Ammo. I also added a Tuffer Buffer Recoil Buffer to the receiver.
I also used a Tactical Solutions V Block to secure the barrel to the Ruger Receiver. The Tactical Solutions V Block is made from Stainless-Steel and is shaped a bit different than the Ruger Factory V Block in that it actually puts upward pressure on the barrel to help eliminate barrel droop.
I topped it off with a set of Yankee Hill Machine 1/2" Scope Riserrs, Weaver 1" High Quad Lock Scope Rings and a Weaver Series 40/44 6.5x20x44mm AO Riflescope.
I have been shooting this rifle this summer and while it shoots good (1" 5 shot groups at 100 yards) the last several I have built for myself and friends with Green Mountain 20" Stainless-Steel Fluted Bull Barrels have shot a bit better.
With that said, and finally getting to the subject of this "Merry Christmas to me", I used my Christmas Bonus from work to purchase a new Barrel for this Custom 10/22.
At first I had fully intended on purchasing another Green Mountain 20" Stainless-Steel Fluted Bull Barrel BUT I have read so much over the years about KIDD Barrels I just had to try one. It was to be, once I received my Christmas Bonus I placed an order for a KIDD 20" Stainless-Steel Match Bull Barrel.
Some times timing is everything. My new KIDD Barrel arrived Christmas Eve Day in the mail. I quickly unpacked it and started examining the barrel. This barrel speaks of quality. The Barrel Blanks KIDD uses are Lothar-Walther Barrel Blanks. Kidd then does all of the finish work including lapping the bore so there is a .0002" taper from breech to muzzle (choked if you will) so in KIDD's words the bullet has equal pressure on it as it travels through the bore, cutting a precision chamber with KIDD's own designed chamber reamer, cutting a KIDD radiused extractor groove in the barrel (as opposted to Ruger and everyone else using a flat angled cut for the extractor) and finally a high polish finish along with a 11* target crown.
Wednesday I took the time to put the new KIDD 20" Stainless Match Barrel on my Nordic Ruger 10/22. First I cleaned the bore which was not needed as the patches came out as clean as they were before I ran them through the bore. The barrel shank to receiver fit was super tight. I was able to twist, turn and push to get the barrel into the receiver most of the way. When the barrel didn't want to go any further into the receiver the barrel was about 1/8" to 3/16" from being fully seated in the receiver. I then clamped the barrel in a padded vice (per KIDD's instructions) and lightly tapped on the rear of the receiver. A few light taps and the barrel was fully seated in the receiver.
I haven't been able to get to the range as yet but did manage to snap a couple pics of the new version of my Nordic-Ruger 10/22.
Above is the KIDD 20" Stainless Match 10/22 Barrel prior to installation. As stated above the fit in the Ruger 10/22 Receiver was PERFECT. I ordered the High Polished Barrel and it is shiney.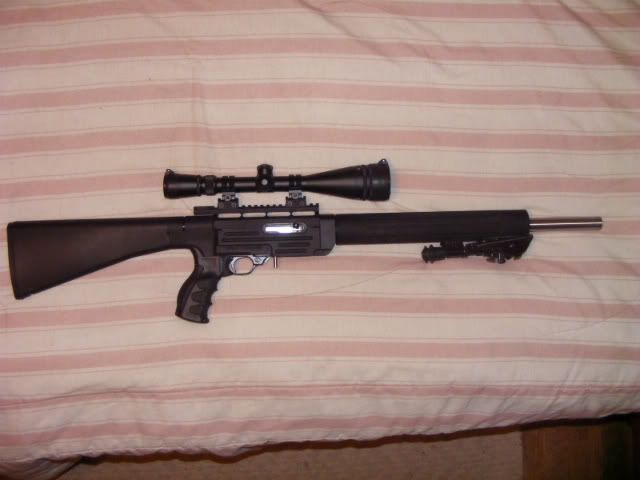 Above is the finished product with the new KIDD Barrel installed. I am getting really anxious to get to the Indoor Shooting Range to shoot this new barrel. Tomorrow night is the night.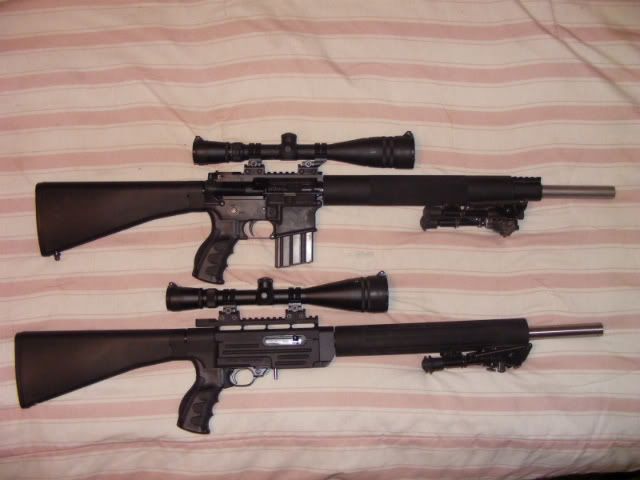 I took this pic for a comparison. The top gun is my Olympic Arms K8 TargetMatch Upper Receiver on a Bushmaster Lower Receiver. Sitting on top is a Weaver V-16 4x16x42mm AO Duplex Riflescope in Weaver 1" High Quad Lock Extension Scope Rings sitting on Yankee Hill Machine 1/2" Risers.
The bottom gun is the Nordic Ruger 10/22 with the new KIDD Barrel. This one has a Weaver Series 40/44 6.5x20x44mm AO Riflescope in Weaver 1" High Quad Lock Scope Rings sitting on Yankee Hill Machine 1/2" Risers.
I went to the indoor shooting range Thursday afternoon with the Nordic Ruger 10/22 with the new KIDD 20" Stainless Match Bull Barrel. To say I was impressed would be an understatement. I started of shooting some Eley Target Rifle I had on hand. I shot 150 rounds of the Eley and was quite impressed with the groups. At 18 yards most all groups were 1 hole groups. Once I had the 150 rounds of Eley shot up I went to my standby Rimfire Ammo, Wolf Match Target. I shot 50 rounds of the Wolf Match Target and evidently this KIDD Barrel prefers it to the Eley Target Rifle as the groups with the Wolf Match Target were again 1 hole groups but a bit smaller hole for 5 shots than the Eley Target Rifle produced. Some of the groups with the Wolf Match Target looked like a single bullet hole in the target.
I was at the Indoor Shooting Range Thursday evening also. I didn't shoot the Rifle (I shot my Ruger MKII 5 1/2" Stainless Bull Barrel with the 30mm UltraDot) but 4 of the youth shooters that shoot at our club did shoot USBR Bench Rest Targets.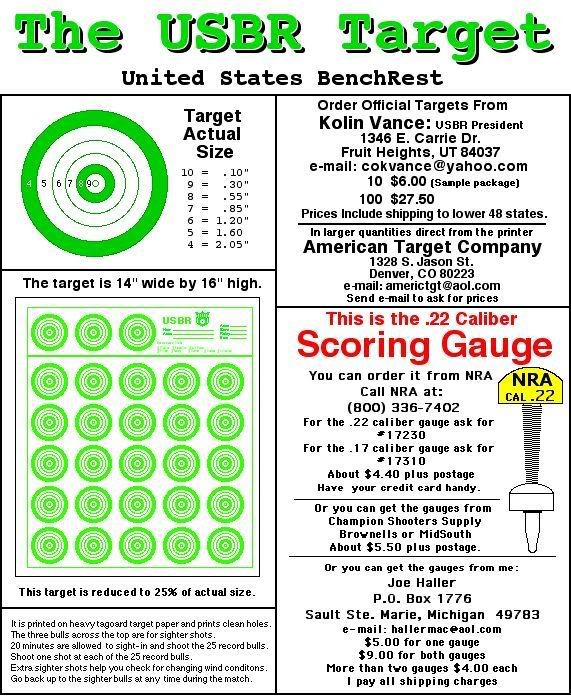 Above is sample of the USBR Target and how they are scored. Granted we only can get 18 yards at the Indoor Shooting Range but we are shooting under artificial lighting and off of folding / portable shooting benches.
Their scores were 249, 249, 249 & 250 out of a possible 250 (I don't remember the X counts). 3 of these youth shooters are 12 years old and 1 is 13 or 14 years old. Two of the 12 year olds are twin sons of the County Sheriff. Those two little guys had a blast (pun intended). Man if you could have seen the look on their faces when my daughter scored their targets for them, it was priceless. The one that is 13 or 14 asked if I could adopt him so I could be his grandpa too.
Larry