Sorry folks- if this sounds too much like therapy, moderators please feel free to delete if appropriate. However, there is a point to this post that applies here. In the last ten days I have lost two friends and important hunting and shooting mentors.
Rodney- on 11/2/20 at 87 years of age Rodney was still in the combine, combining corn. By 11/7 he had been to the hospital, tested positive, and sent home. and reportedly passed from a ruptured lung embolism a couple days later. A long time friend and neighbor of my wifes family, Rodney was an avid hunter along the Mn River valley where he lived his entire life. Deer, Turkey, and the occasional trip for elk. Rodney set me up for my first successful deer in Mn., and a few others on land he farmed or owned. He also helped me with my as yet unsuccessful effort to call in a coyote, providing me access to private lend and dropping me off in prime spots. Rodney always had a good story, and was never bashful about stretching the facts in the interest of a good story.
Perhaps the worst part was that my FIL found out about Rodney, while deer hunting on the 7th. This is the second year in a row that he found out about the death of a good friend or acquaintance while hunting. He has also lost a brother this year, another hunting partner gone.. Photo of my FIL and I with a buck that Rodney helped me get on to. First time I ever "hit what I was aiming at" deer in Mn.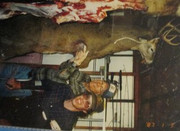 Uncle Don- On Friday night my uncle Don passed away. Short of my Dad and grandfather, he was a big part of most of the shooting and hunting I have done in my life. He was also an enthusiastic hunter, learned naturalist, and all around outdoorsman and explorer (at least to a kid like me). At one time he was treasurer for the SD wild life federation. I'm sure he was involved in a whole list of outdoor and conservation related projects. He was a collector of wonderful and interesting shooting related things. As a boy I remember holding what must have been a Remington model 241, .22 nickel plated...!! He was one of the people who helped teach me to shoot..." keep your elbow up, boy, don't chicken wing that rifle.."
He Gave me advice about rifles, " don't worry about buying a used rifle, if it doesn't look too neglected, most people never shoot a rifle enough to wear it out before they sell it." He got me started with "wipe out" and my cleaning "regime" based on his acquaintance with a US shooting team coach he knew. He made a living and raised a family cutting meat for what was then John Morrell. The photo below is of Dad (right) and my uncle after a good day chasing pheasants.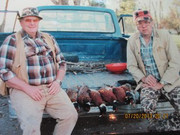 Thanks for indulging me. I will probably add to this as the week goes on... CL