Never was. Shot a few here and there and the one and only pistol I've owned is a 38 snub nose S&W that I can make go bang and put a hole in something at point blank range if need be.
I ended up picking up a new High Point C-9 for $165 out the door. They don't pretend to be anything but a budget pistol, but they're made in the U.S. and the reviews on them indicate they function as intended.
I put 50 rds through it without an issue just using cheap Blazer ammo. But at the end of those 50 rds my trigger finger was sore. Trigger was horrid. Really heavy pull, gritty and inconsistent. Targets were just as horrid. Lol.
Being the inquisitive creature I've always been, I stripped it down way past what is instructed in normal breakdown, to get at all the goodies and see what makes it tick.
I ended up polishing the sear face, the firing pin face the sear sits against, and all kinds of other things. Everything that moved when the trigger was pulled got polished at any definite or perceived contact points against the frame, or against another part.
I took .009 off the sear height in checked increments, to reduce the long trigger pull. Last but not least I put a .025 thick clip washer in the left side of the trigger to get rid of the side slop and keep the trigger centered for a more consistent straight back pull. The end result is not a target trigger and never will be, but noticeably reduced pull weight, so much smoother, and cut the travel by a full 1/3 or more. Now I can use it.
The high dollar masterpiece. Ha.
Off to try it again. I'm a long ways from becoming a Guy Miner, but by the last target I was getting onto it.
1st target from a distance of 15'. I believe this was 20 shots. No bragging rights here. Lol.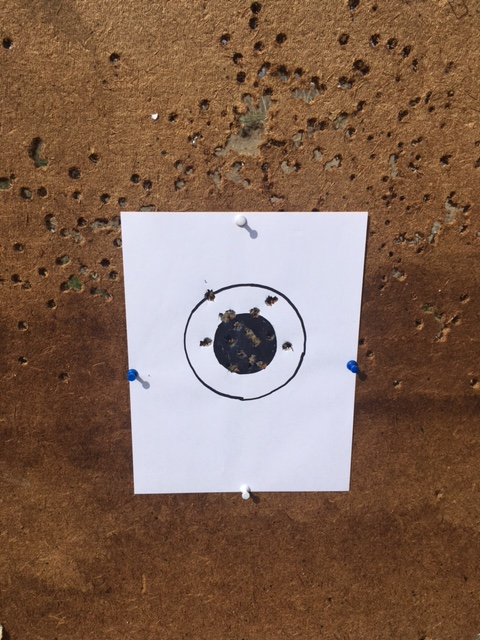 Next target at the same distance was better. I believe this was 18 shots. The 3 taped shots are from a rifle at another time.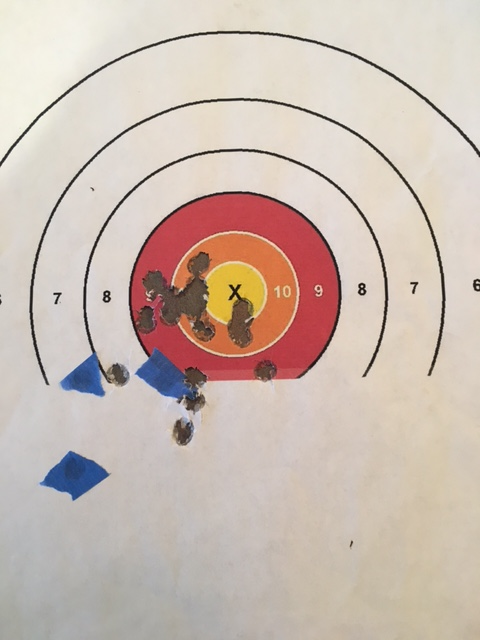 I couldn't quit when it was getting fun, so I dug around in my clip board and found a used office paper target I made for rifle that had a triangle on it yet at the top I hadn't used. This was 16 shots at the same distance. Getting there on the early steps.