I've only got a few bullets on hand so I thought I would run some expansion test before ordering any new bullets.
Water jugs may not be the best test median but they are cheap.
I set them up at 50 yards. I loaded the rounds to around 2,200 fps. out of a Savage 99 chambered in the 250-3000. So impact velocity was around 2,000 fps
I figured this would be roughly equivalent to a 250-275 yard shot.
I understand that the bullet RPMs is lacking, which will effect bullet performance.
I was mainly concerned with comparing different types of bullets and not how it expanded in water.
Several bullet yawed out of the jugs. Probably meening they bent like a bannana rather than expanding in a straightline bullet path. This is a theory not a fact.....
I know one bullet tested in milk jugs proves nothing, but since I only shoot deer with one bullet it does help me with my bullet decision.
I pulled the tips from several 80 grain Barnes TTSX in hopes that the shorter length will enable them to stabilize in the slow twist barrel of the Savage.
The Sierra Gameking seams to explode even at the low velocity.
I've killed a few deer with them, never had an exit but the deer died.
When skinning the deer I never found a intact bullet, rather slivers comparable to the test bullet.
Never shot a deer with the Remington SP. Sectioning this bullet shows a straight jacket with hardly no tappering. No internal jacket flutes to insure expansion.
Maybe its designed for the 25-06? Hard to believe the Sierra explodes and the SP doesnt expand.
You have to figure fluid hydraulics plays a part with the hollow point.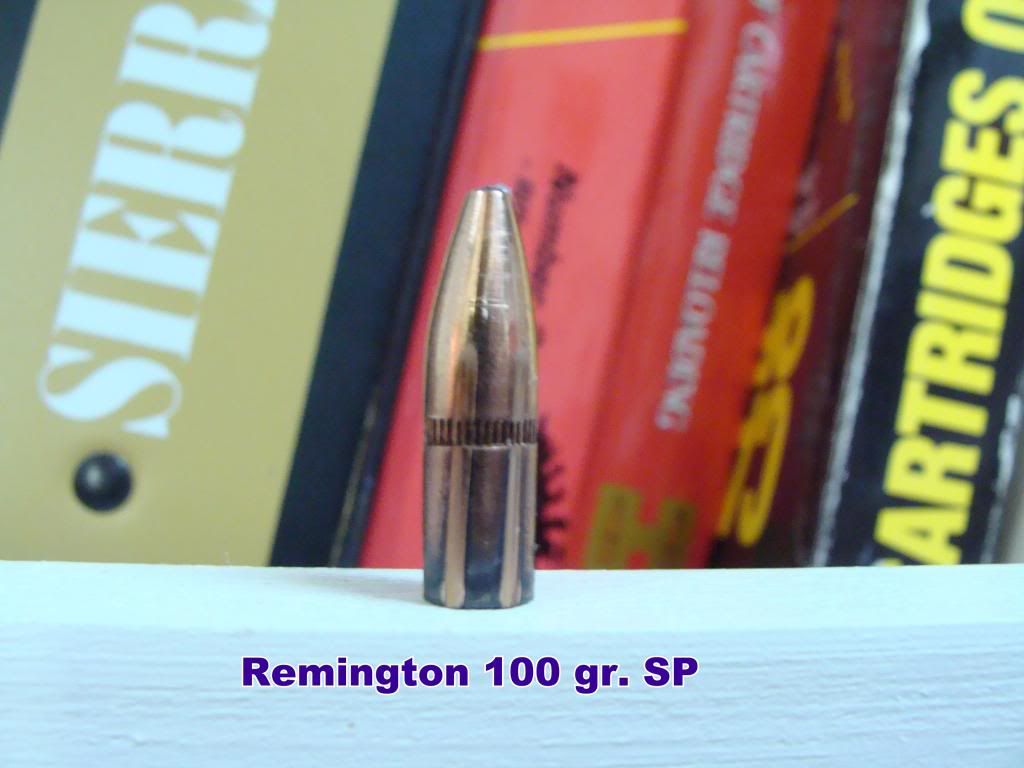 Odd that the Remington did not expand but the Hornady blows out its core...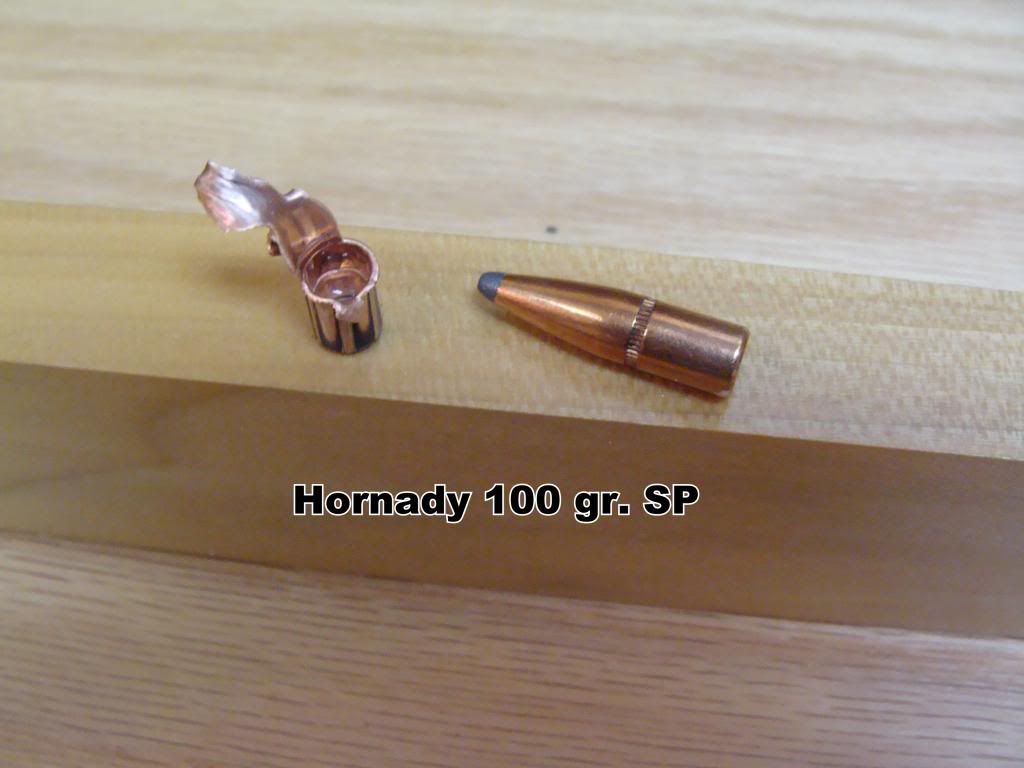 The Barnes has a nice open tip after the plastic tip is removed. No problem opening at 2,000 fps.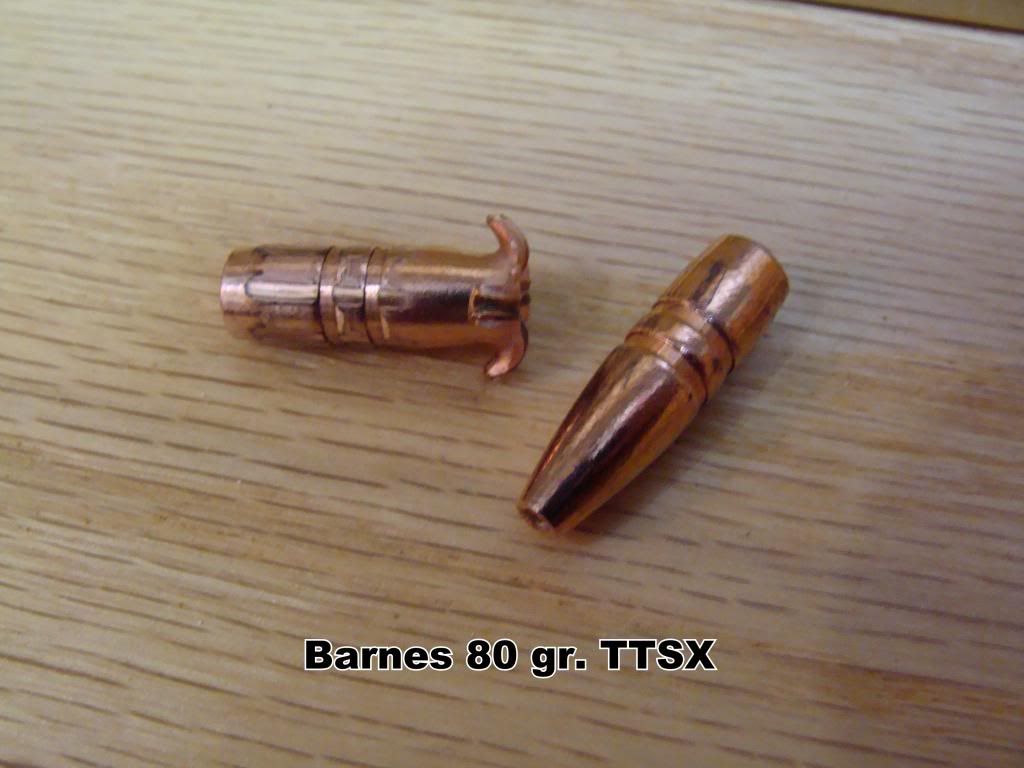 The traditional 117 Rem Core-Lokt seems to open easy, If I can get it to shoot in the slow twist it should work great at 2,600 fps.
Impact speed was around 2,000 fps as with the other bullets.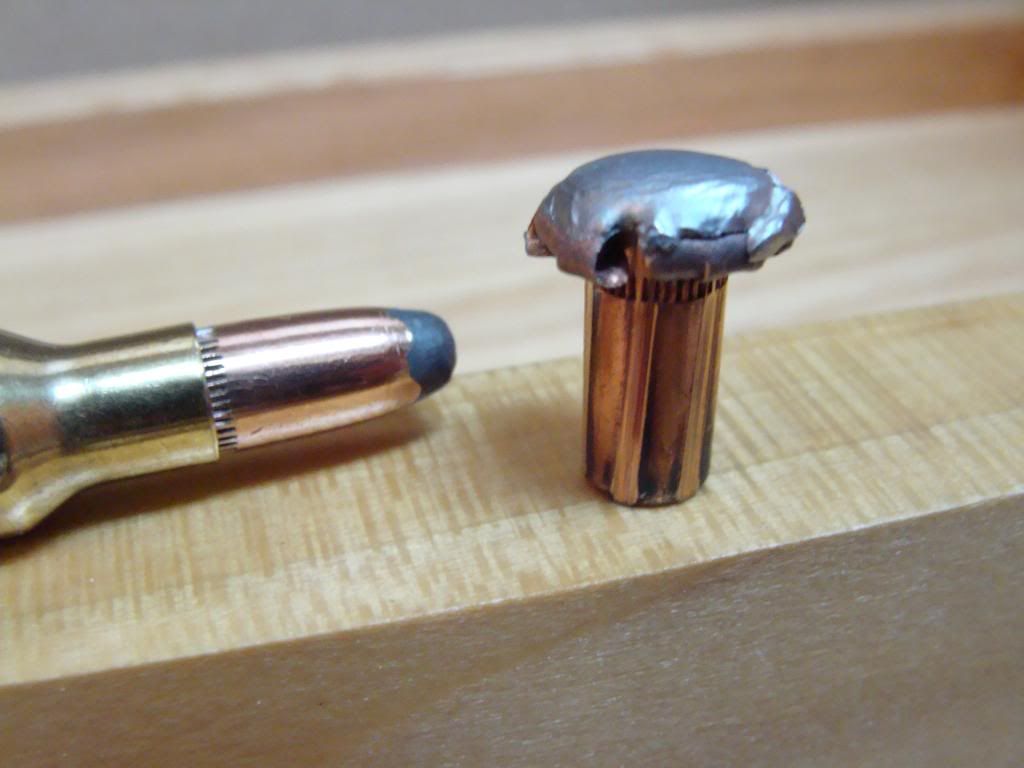 The 117 grain Core-Lokt when section had some nice fluted cuts in the jacket and had a heavy jacket base like the ol fashioned Core-Lokt's.