I was goofing around last night with my grandpas M99 300 Savage. Decided to see if I could work up a good load for the old rifle without a ton of shooting. I browsed thru a few manuals and Hornady had some data for 150's using PP2000 that attained 2700 FPS. I said that might be a good all arounder, that mimics the reason the old cartridge was created.
So I cheated and fired one shot over the Magnetospeed at 1/2 grain increments until I got to 2700FPS on the monitor. Cases came out of the gun slick and primers looked very rounded and nice so I said what the heck, I'll load three and see what happens.
That was the first three. I was pretty okay with that as it shot just about like the Hornady 150 SST factory stuff I had which seemed to shoot great as well.
Decided to load 3 more and get it a bit closer to zero.
I cranked on the old friction dial and hoped for the best.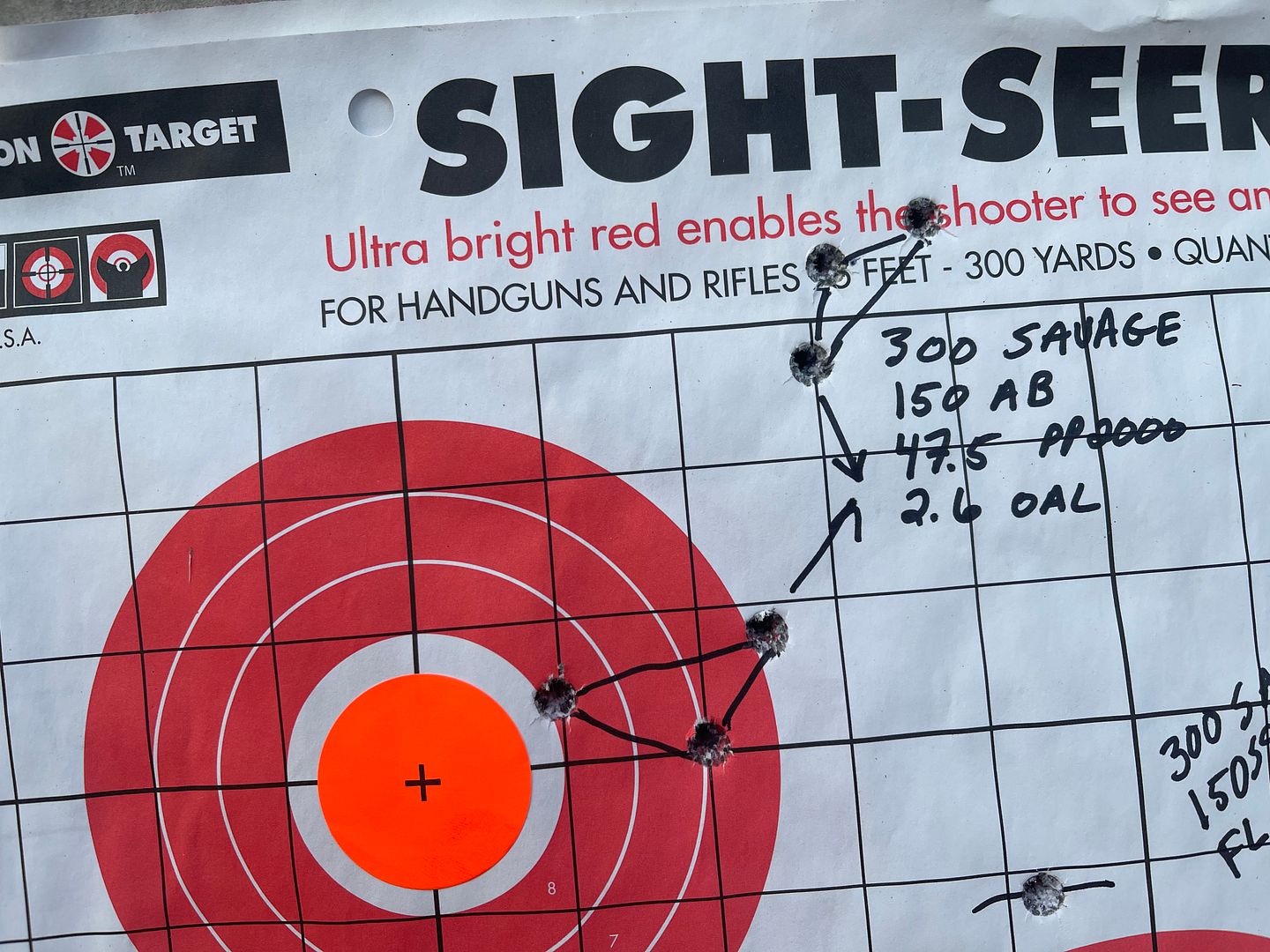 Little bigger group than before but this rifle doesn't do well with heat. 3 shots is about all it wants before it'll start opening up.
I ran out of daylight but I'll finish it up tonight.
For reference it did real nice with the Hornady factory stuff I was using to get some brass.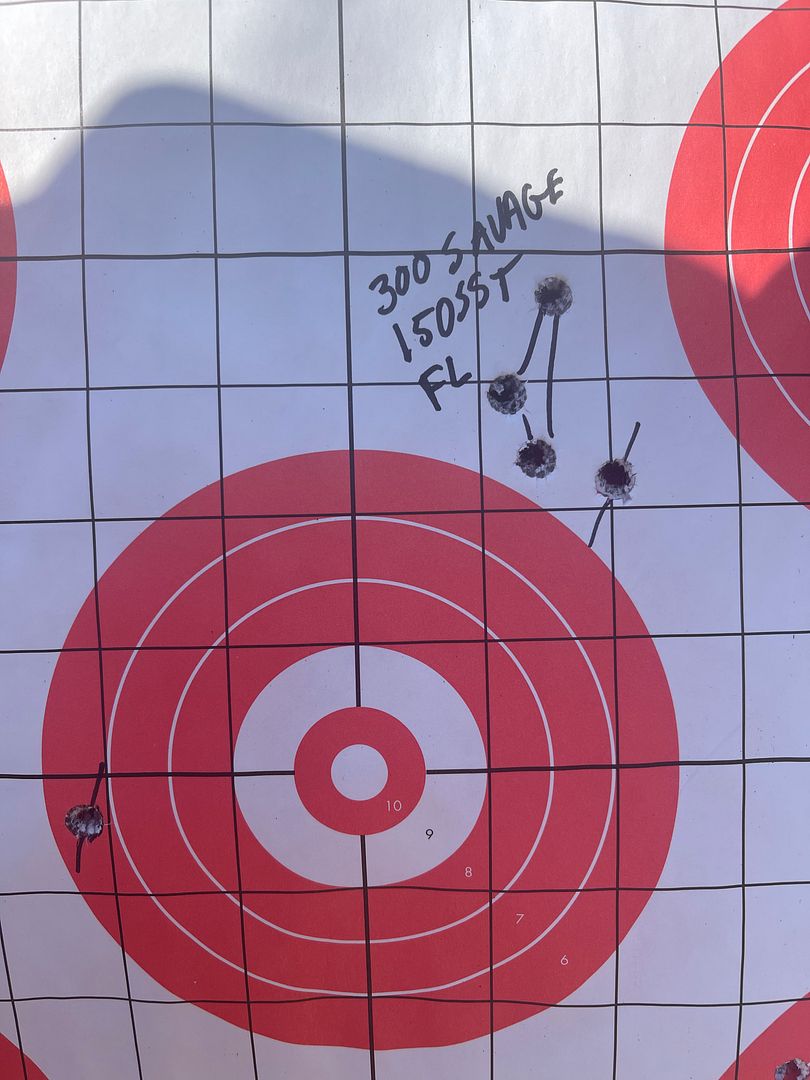 Overall I'm pretty happy with the load and hope to use it hunting a bit more. I'd like to find an M8 4x for it one of these days as the old 2x7 Redfield is a bit cloudy but good enough for fair weather hunting.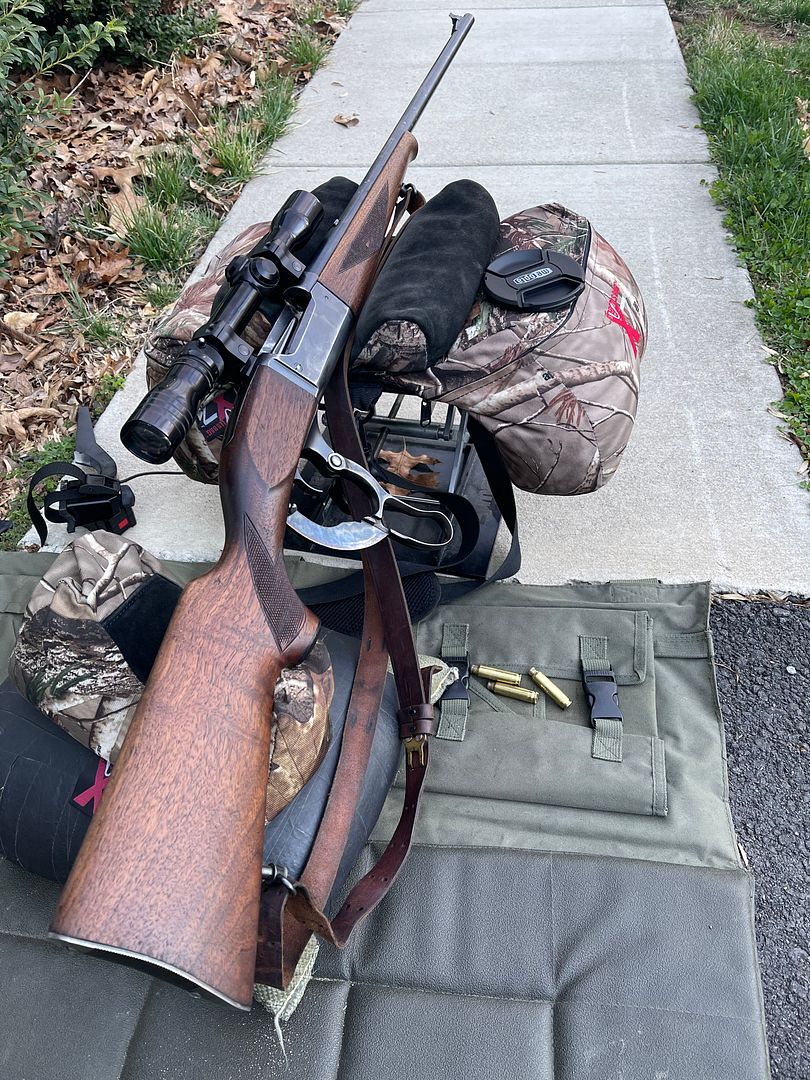 I also forget to mention I loaded the first batch at the books 2.6 OAL but the gun was not liking them for function. So as I went along I shortened them to 2.590" and it ran real smooth. Just a good reminder to check stuff out, even though the book says something is good, your rifle may not like it.
Same for sizing. I sized them to bump the shoulders 2 thou and while it chambers fine you need to squeeze that last little bit on the lever to get it fully into battery. I will try to take another thou off them next and check to make sure they're good. I like to keep stuff snug but not at the detriment of function.
The old 300 Savage is a cool cartridge though. So modern looking to me and really quite a lot of performance from it.
I tried catch a 150 AB at 100 yards but it made it through 2 - 2.5 gallon DEF jugs end to end. I'll have to regroup and find some more jugs to try and catch one.
Last edited: