Well, I am going to try and put our Oregon trip into words and some pictures. I know I am going to miss a bunch of stuff, so I am leaving it to Brian and Bill to add to this.
We left my house in Fredericksburg, Va on 22 Oct 2011. Brian drove up from his place, and we packed the truck, FULL of gear, rifles, snacks and coolers for our trip. I think we left my house around 0600 EST. We meandered our way through Virginia, up into West Virginia, where our first major stop was the Cabelas in Wheeling WV. After spending about an hour or so there, we continued West. Not too much to see through this part of the trip, but we did discuss just about anything you could think of to do with rifles, cartridges, boots, etc. I did wanna include a picture of what Brian looked like when he was inspecting his eye lids for cracks.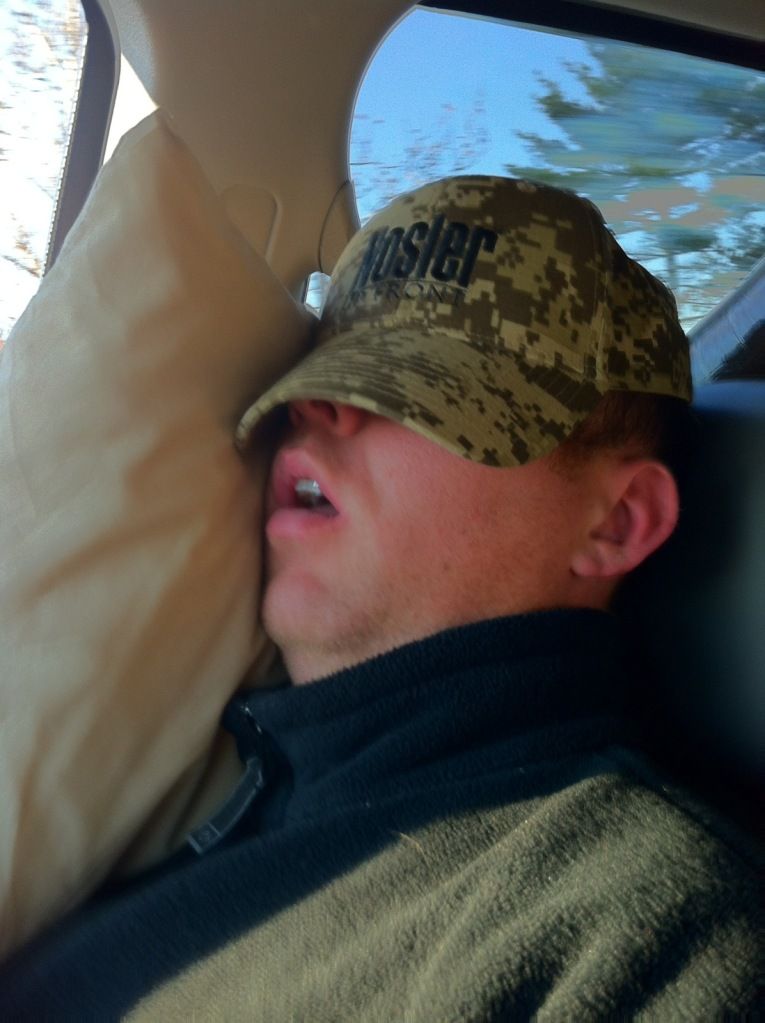 As we moved through the West, we pushed through Indiana, Illinois, and Iowa in the hours of darkness. During that part of the trip, we continually worked our eyeballs out trying to get some glimpses of the giant Mid Western deer. Didn't have a ton of luck, but we did see alot of corn!
As we pushed through Iowa in South Dakota, it was early morning and we did start seeing more deer, antelope and other stuff. Not a ton of wildlife roadside, but it was at least something to see. There was plenty of wind though. We did stop again at the Cabelas in Mitchell SD. Pretty cool Cabelas with too much temptation and us without enough money!
Then we moved on across SD to Rapid City. We bypassed the Cabelas went into Scheel's. Pretty sure Brian has a new favorite store out there. It is a great place and man, Coopers on display doesn't hurt their rep too much either. I did talk Brian into a bino harness system which hopefully helped him out a little on the hunt!
After SD, passing through Deadwood and Sturgis, we had a quick trip through the corner of Wyoming. Man, there were a TON of antelope on the sides of the road. I mean hundreds!
Well, then into Montana. We made it through most of the Indian lands, and Brian was pulled over by the Montana Game Warden :twisted: .. We drove past a game check station. Didn't realize that we were supposed to stop, even though we weren't even hunting in Montana. The warden seemed pretty surprised we weren't hunting in Montana either. We showed him my Oregon License and pushed on... Pretty funny, I guess you travel with outlaws and the law finds a reason to pull you over!!!!
Well, we drove through Montana at night for the most part. Missoula and Core De Lane, ID weren't able to be observed and the construction made travel a little hairy at points with it raining and foggy. Finally, we passed into Spokane and the weather lightened up. After Spokane, we beelined for Bills place in Lyle.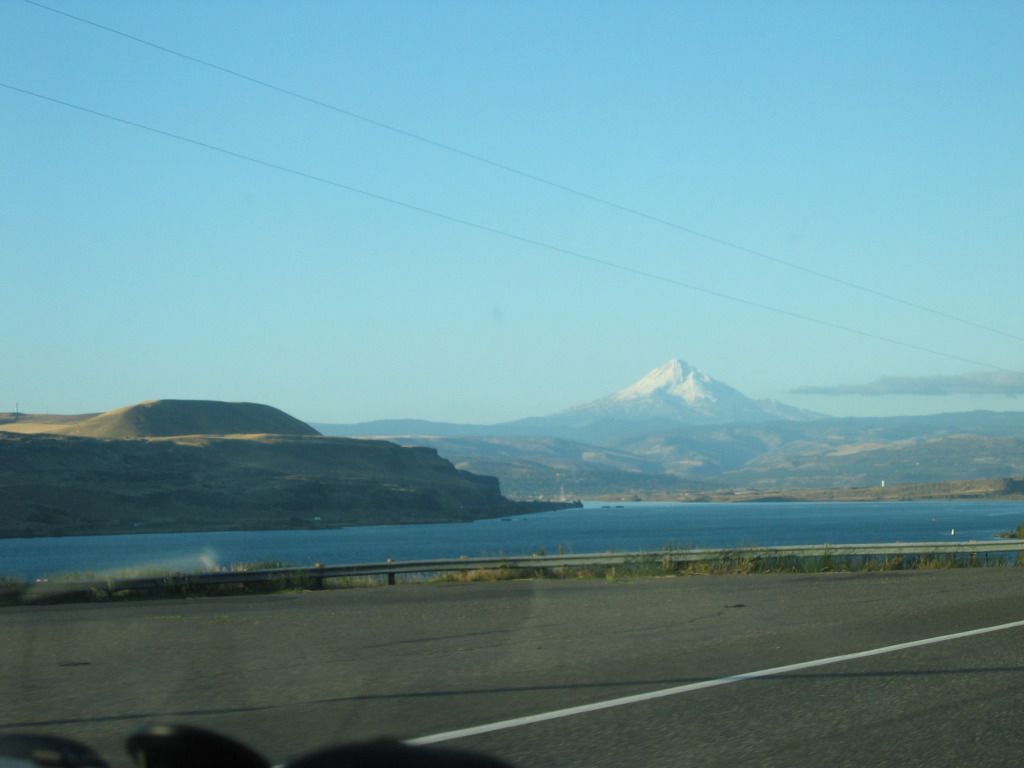 I think we made his house around 0900 or so? Can't remember, we were smelly and tired after that stint of driving.
Bill let us get a shower and fed us while we talked hunting. We decided to depart for Oregon in the early afternoon to allow us to get camp set up. I think we left Bill's around 12-1300 Local and moved down 84E with Bill and travel trailer in the lead and me in follow. We fueled up at the bottom and began the ascent into elk country.
After awhile we broke off of paved roads and made it into the dirt.
I wanna say we were setting up camp around 1700L. This would be our sleeping place for the next 6 days or so. Pretty awesome living quarters and man, I have never slept so well.. Had a nice bed and dry place to rest my gear.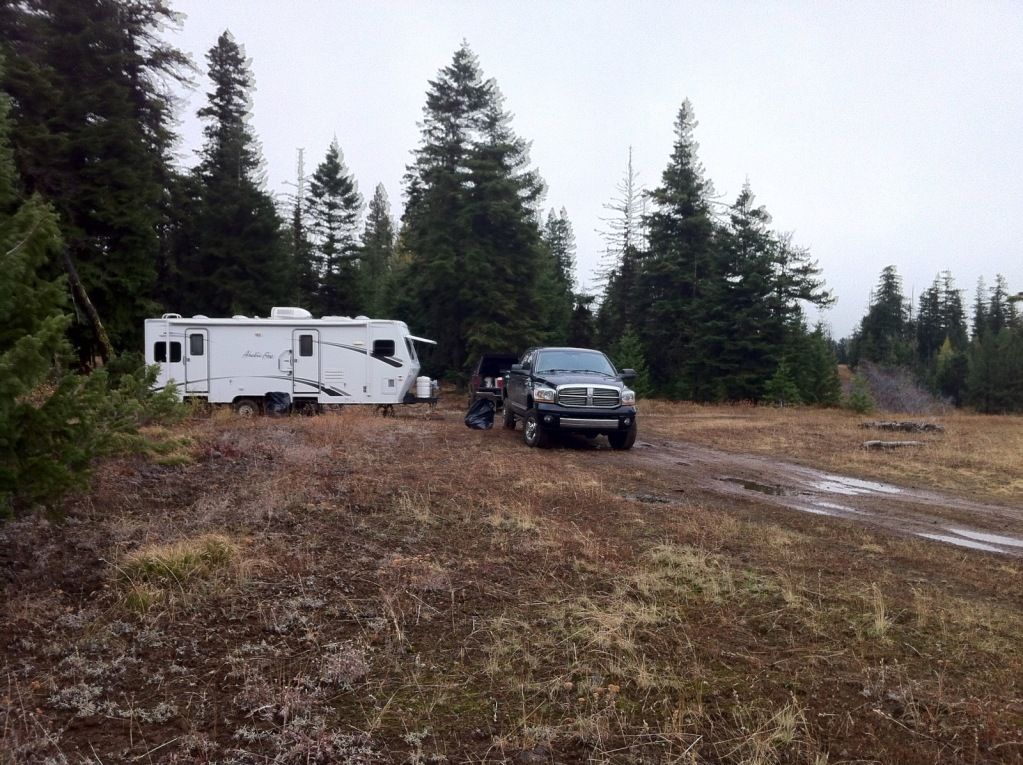 Well, we set up camp, BS'ed more about the next day of scouting and got some rack time.
We were up pretty early, thanks to Bill. He makes one heckuva great alarm clock and is always right on time! Great campmate to have. After a cup of coffee, and some snacks, we headed out to glass some drainages and get a game plan. We glassed for the morning, didn't see any elk but we found some great places that had to have held elk and then went back to camp for lunch. We did suffer a flat on Bill's rig, but I think we changed that tire fast enough for a NASCAR team to worry!
After lunch, we used my rig and checked out a drainage close to camp.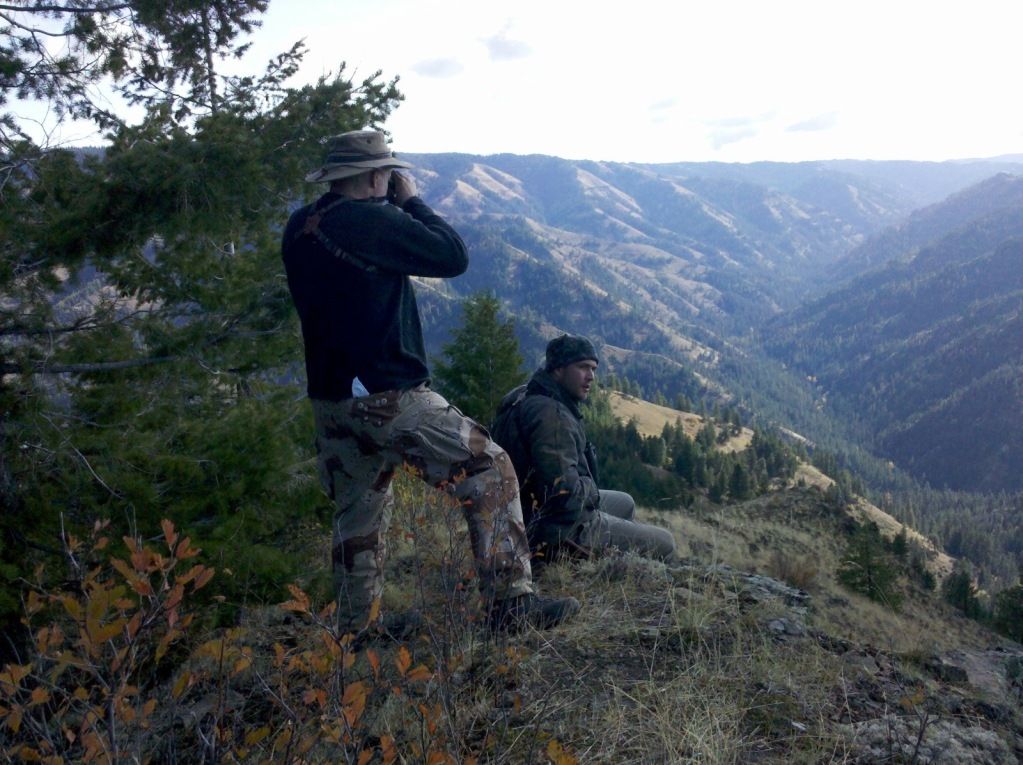 Well, we found some elk...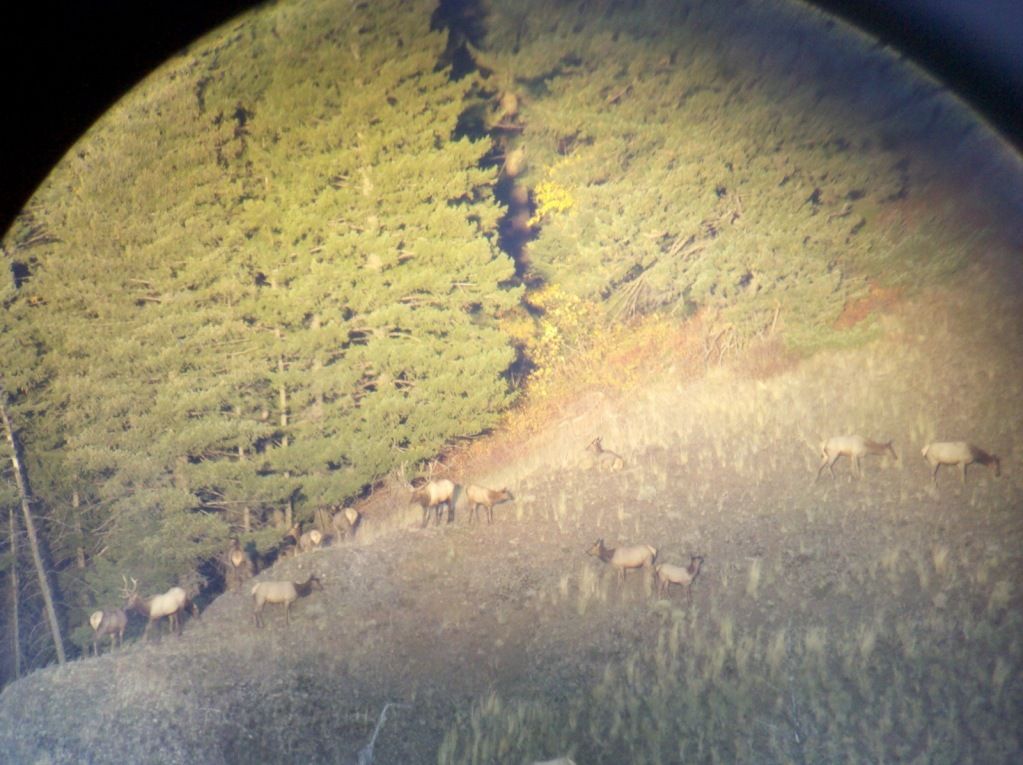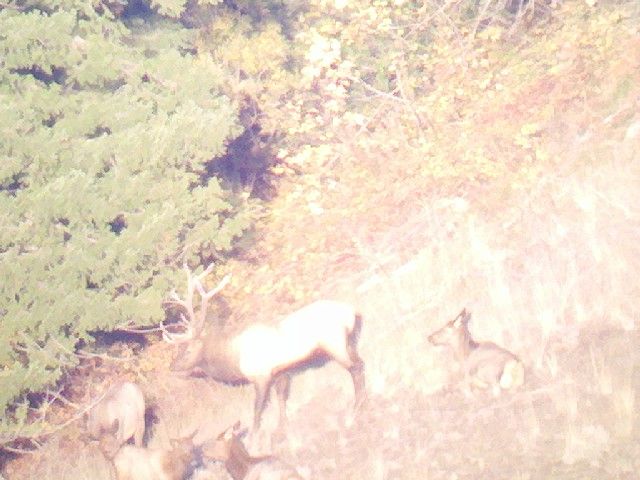 We took a bunch of pictures through the Swaro scope and decided we wanted to hunt that drainage in the morning. We figured if there were that many bulls, there had to be a few spikes.
Well, we were on bulls and cows everyday. I mean 5-8 bulls a day, easily. I haven't ever seen so many bulls.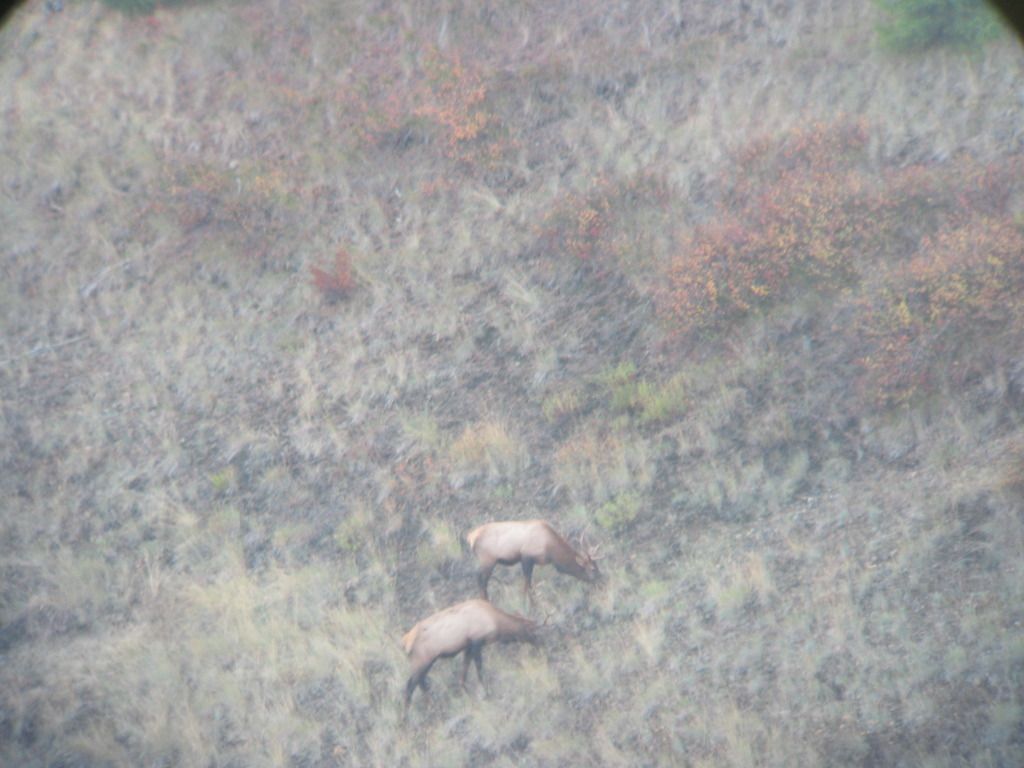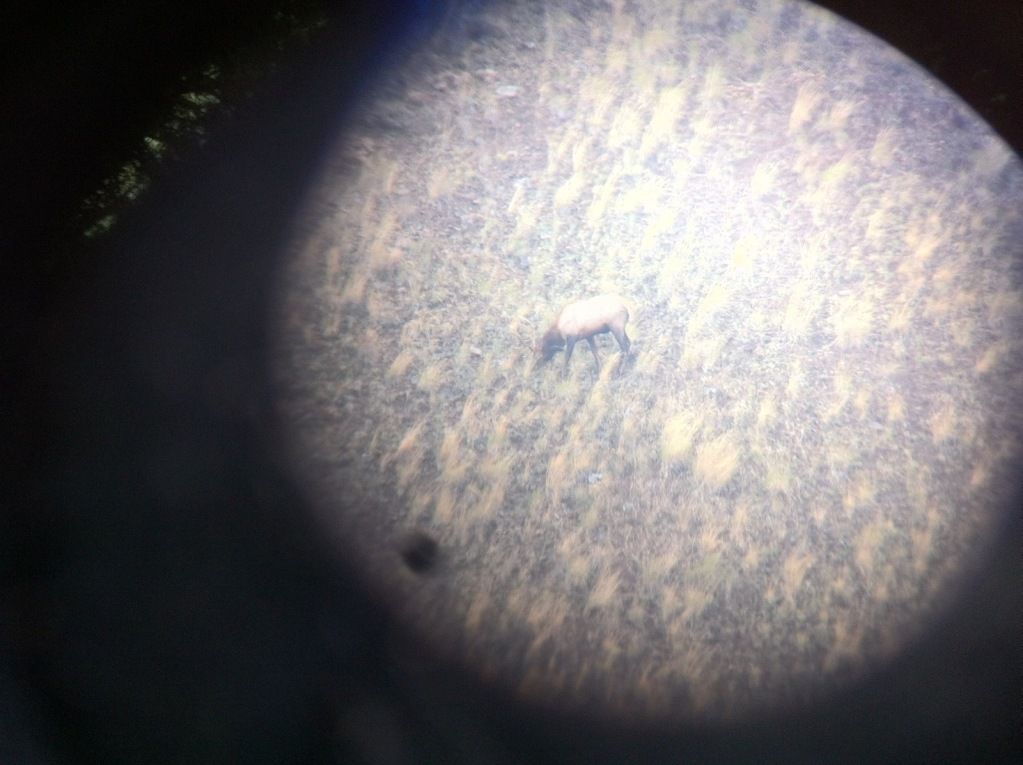 We hunted hard everyday, hiking far down into the drainages and getting on bulls. I had 3-4 bulls, from 250-350 yards from me, bugling, fighting and cows chirping for a whole day. Would have been very easy for the Whelen or Brian with the 338WM to speak to any of them, just no SPIKES!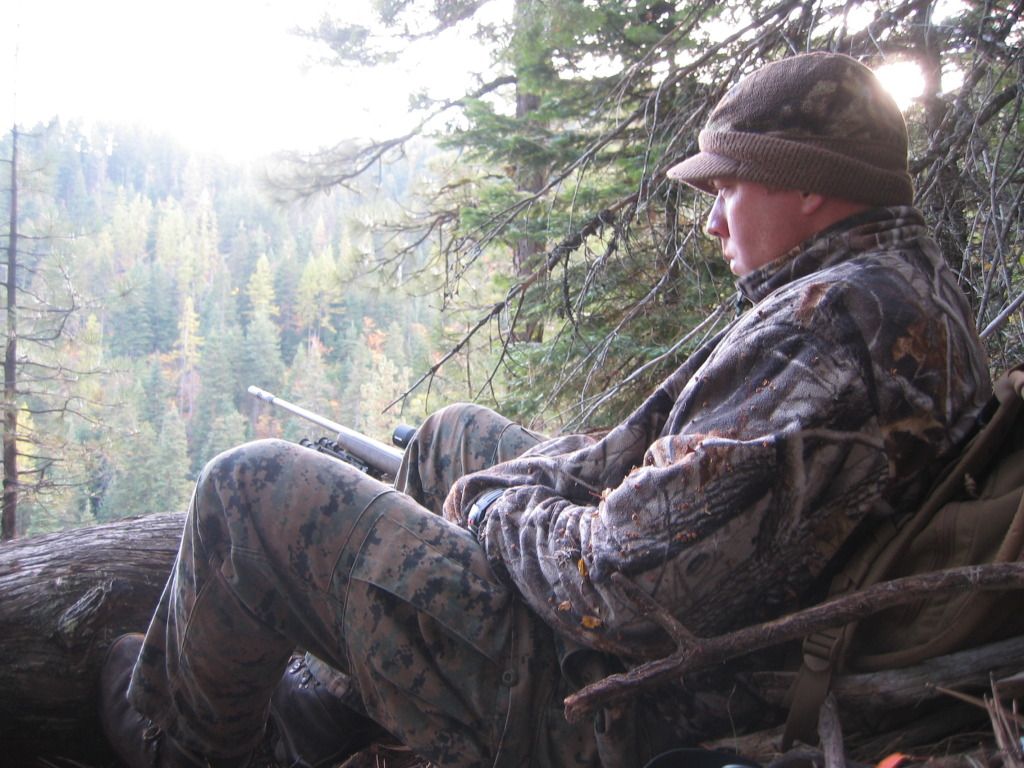 I believe if this had of been the Spring time, the bears would have came looking for a fight!
http://youtu.be/gbChVRu1xto
http://youtu.be/H9V8R1sOTmQ
The Whelen on watch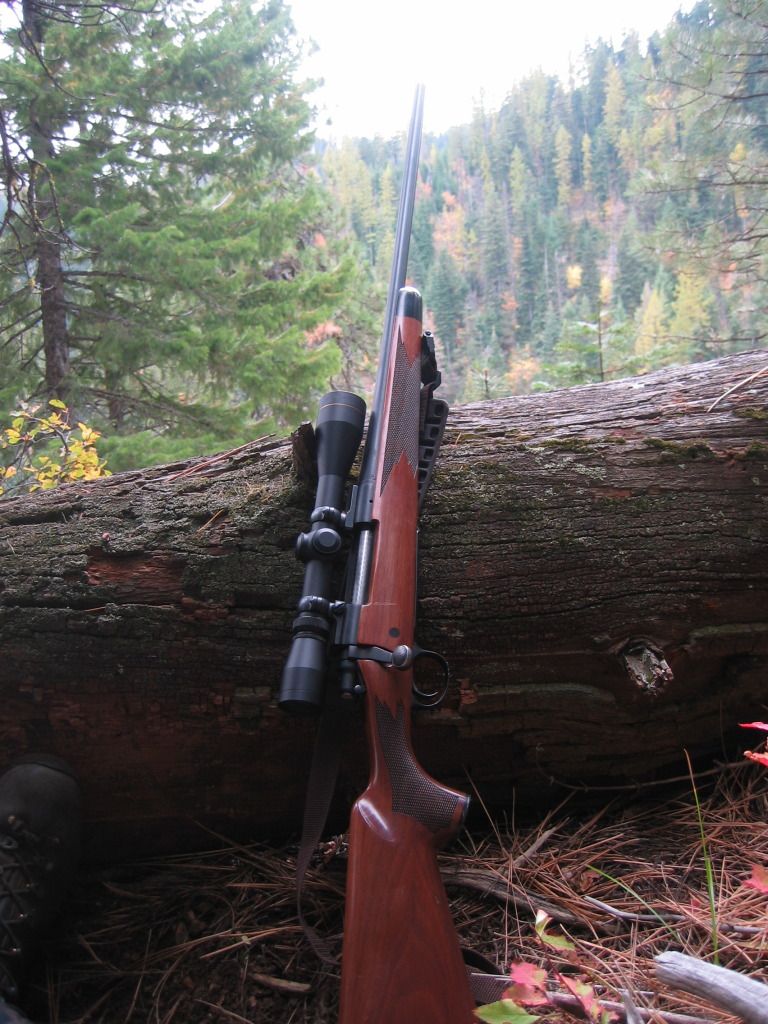 Well, our last day of hunting, we spotted a herd and decided to make a move on them. Bill stayed on the far canyon, and was able to keep tabs on them. They bedded down in the morning before we could get to them. We decided to sit tight and let them come up in the afternoon and then we would put the sneak onto them. Well, the weather kinda fouled us up a little. The fog and rain came in, shut the elk down and also put the rain on our heads. We glassed until we couldn't see, hoping to get that chance, but nothin!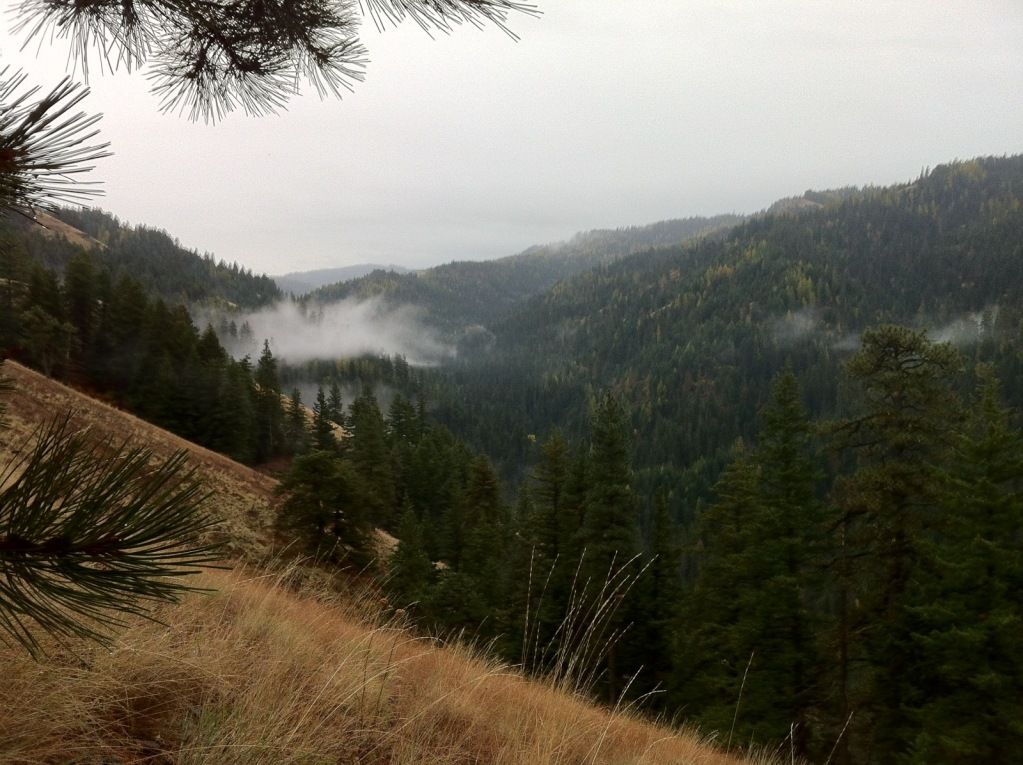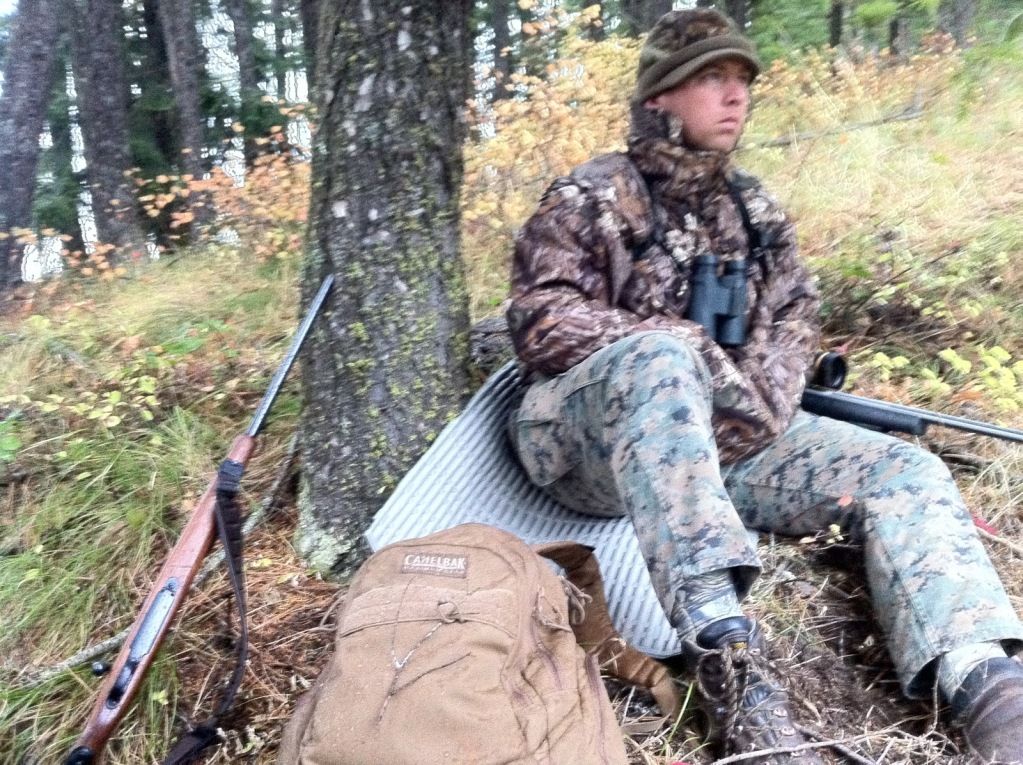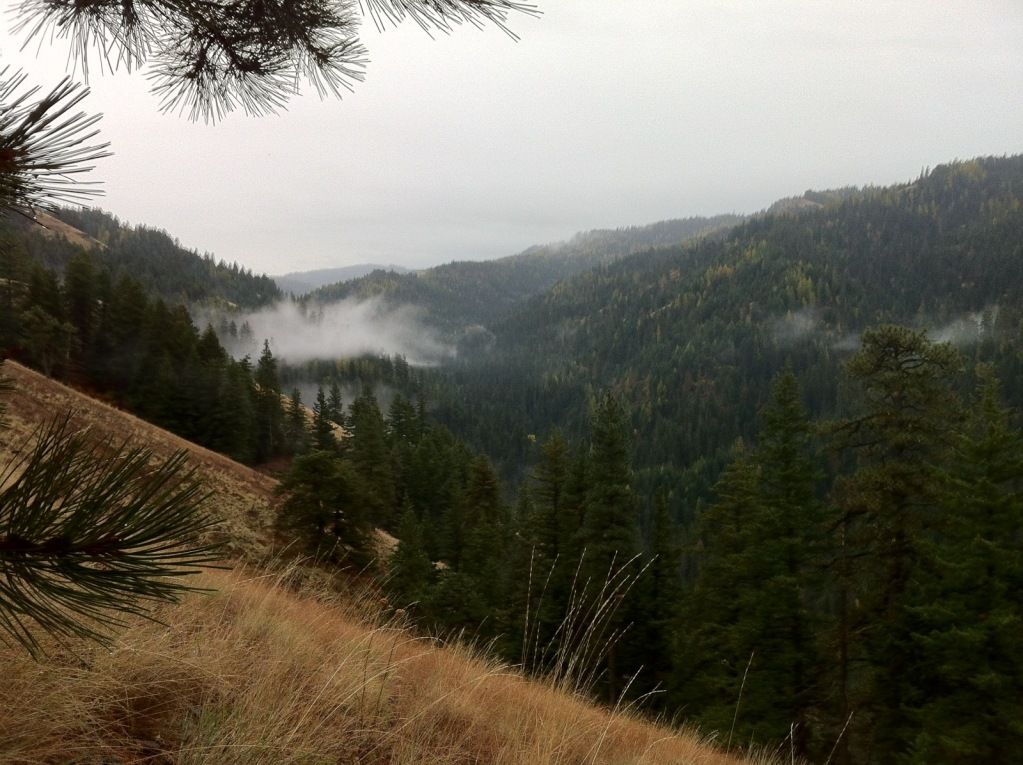 So, Brian and I hiked our way up out of the hole we were in. Very nice hike, since we were cold and wet anyhow. Needed a little body heat to get our blood pumping.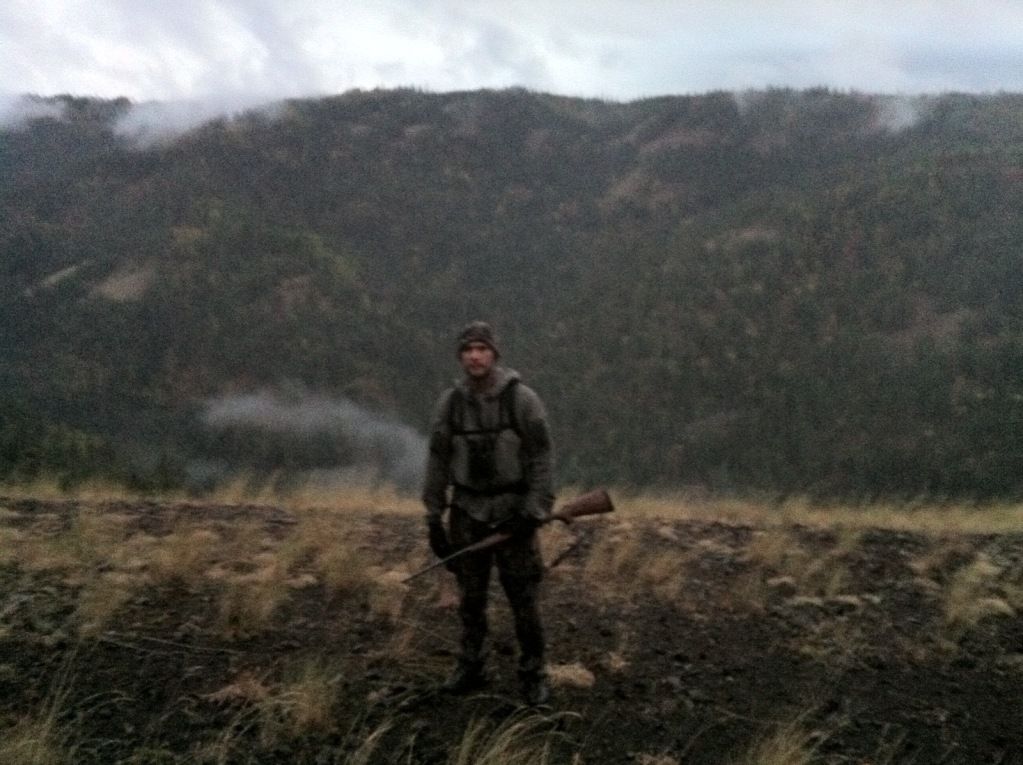 We made it back to camp, settled in and had a good supper of elk meat Bill brought along and had a few beers.
Next day, we packed up the camp and headed back to Bill's house for some showers and rest. We went out and had a little pizza for supper and some fresh green salads. Well, I will leave this up to Brian, but the digestive system seemed to work overtime making those salads into gas, cause oh man, did Brian ever stink the next day after leaving Bills house, headed for Bend, OR! Just kidding, it was me stinking up the truck!!! :twisted:
We made it to Nosler around 1030 and met Mason Payer! Great dude! He gave us an awesome tour of the factory. Got to see where the rifles are built and every aspect of bullet making is done, EXCEPT for the darned Accubonds! Oh well, I guess somethings are better left a secret. He did hook us up with a few things from the Pro Shop, and I was very thankful for the tour. Met Bob Nosler as well, and man, what a great guy. Every single person on the floor was working hard and all seemed to be great people. We got to see them shooting the promo's for the Varmegedon bullets and saw them shoot some 180gr ET's into gelatin blocks. I also gleaned some of the chief Nosler Ballisticians pet loads for the 300WSM! SCORE!!!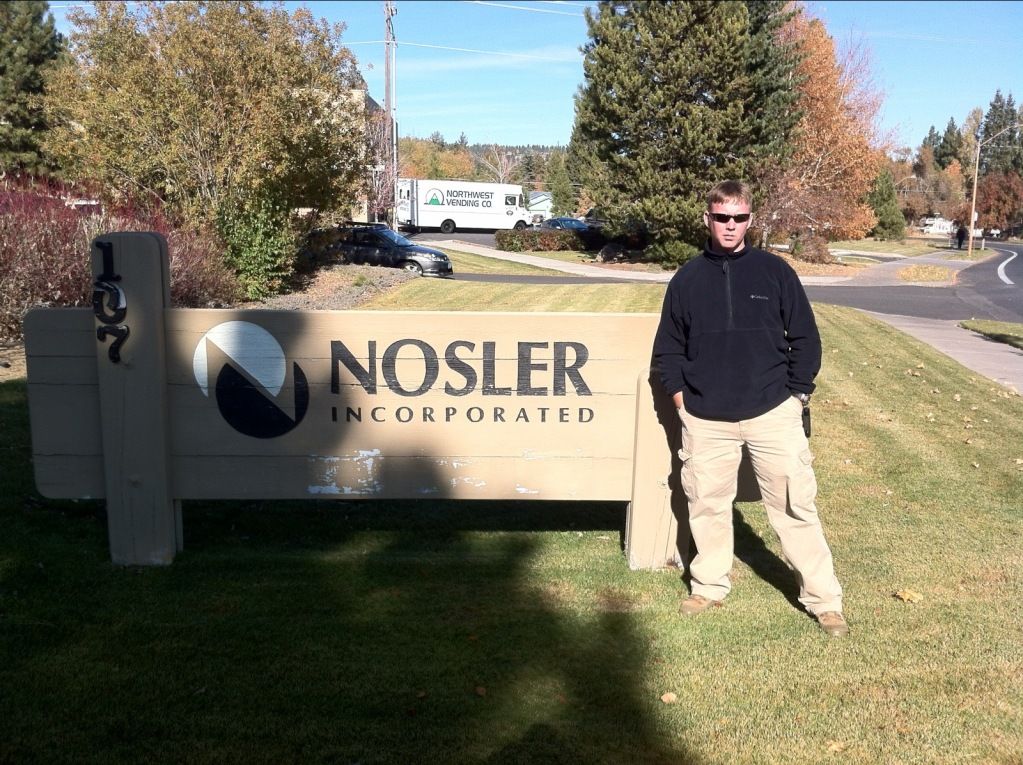 Well, after that, we headed East. Made it to Idaho that night, visited with my buddy that shot the largest Idaho Muley last year. Got a featured article in Eastmans and everything. I hadn't seen my buddy since he left the Marine Corps in 1998, so it was good to link up with him.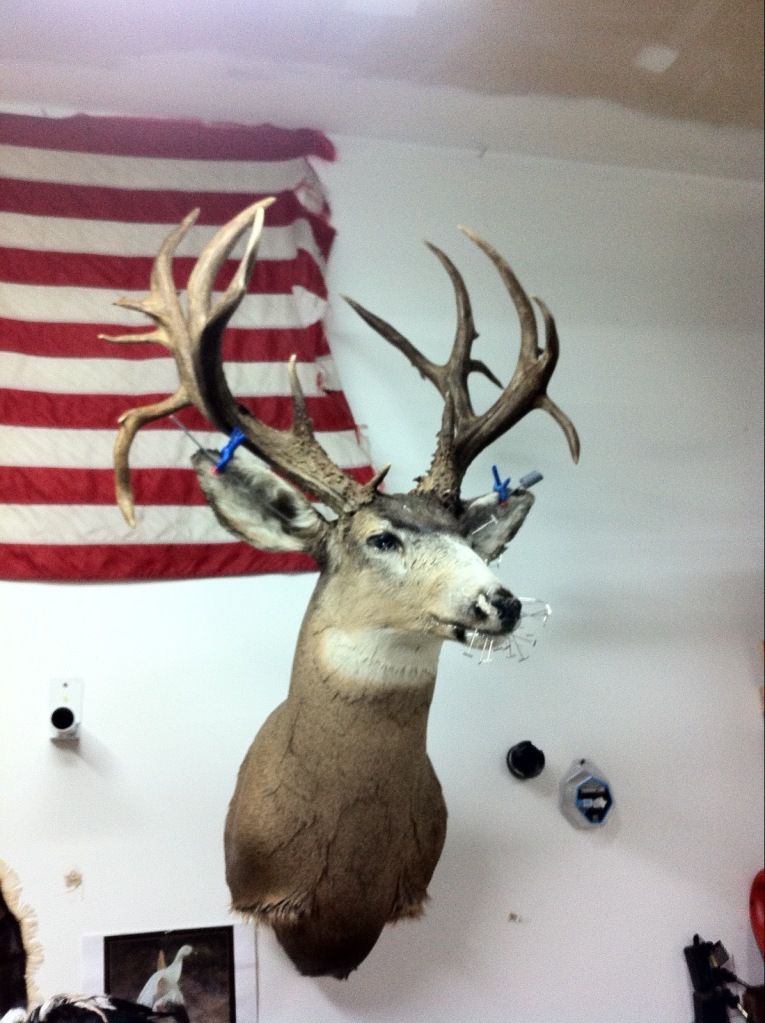 We had some supper with him and drove North to visit my outfitter buddy in McCall. Had a late night visit with him. Crashed on the floor and in the morning BS'ed for awhile and just about had to pull Brian out of McCall when my buddy offered to do some more elk and woof hunting! Trust me, it was hard to not stay. I love Idaho!
We moved North and pushed through Grangeville into the Bitteroot area.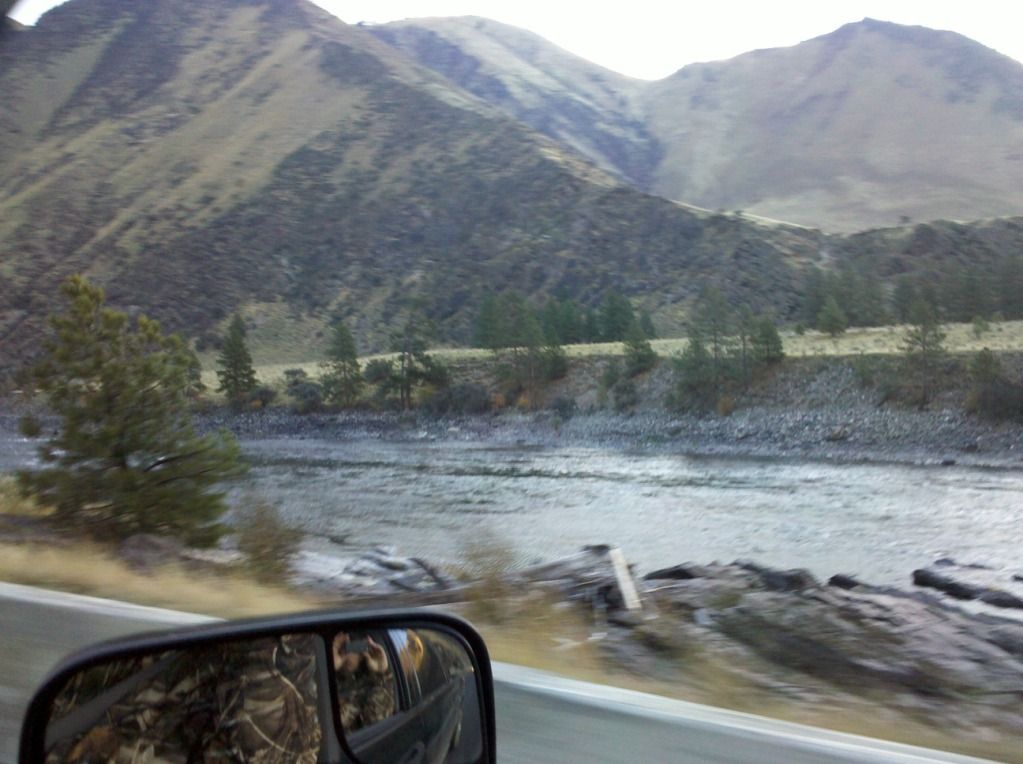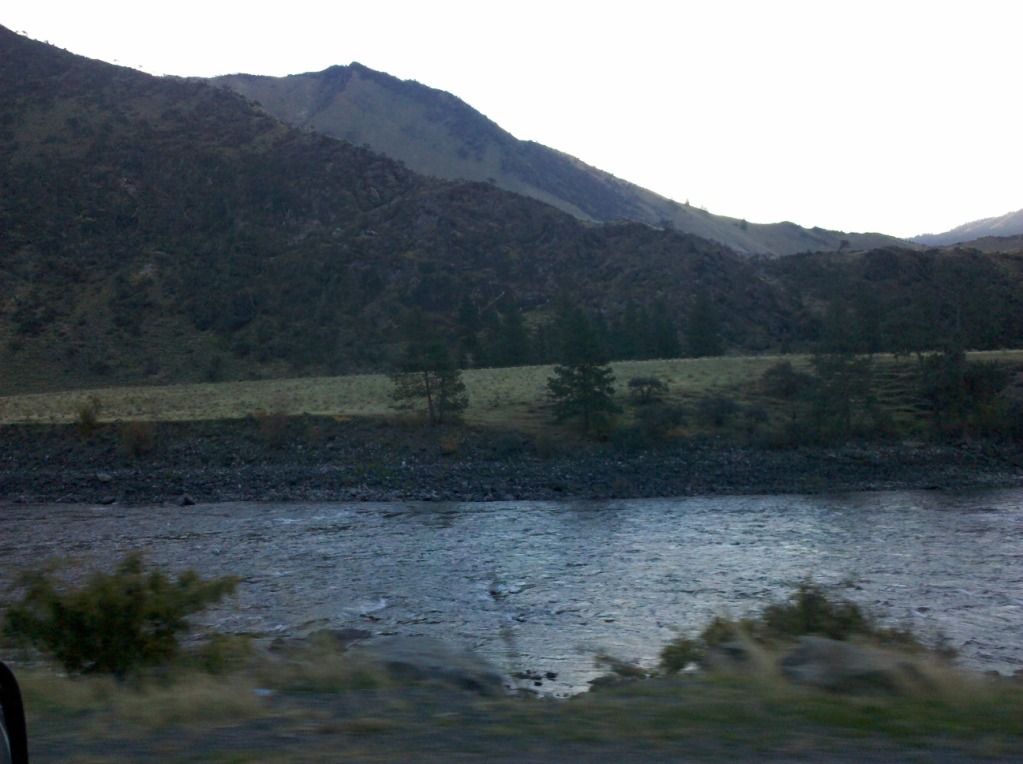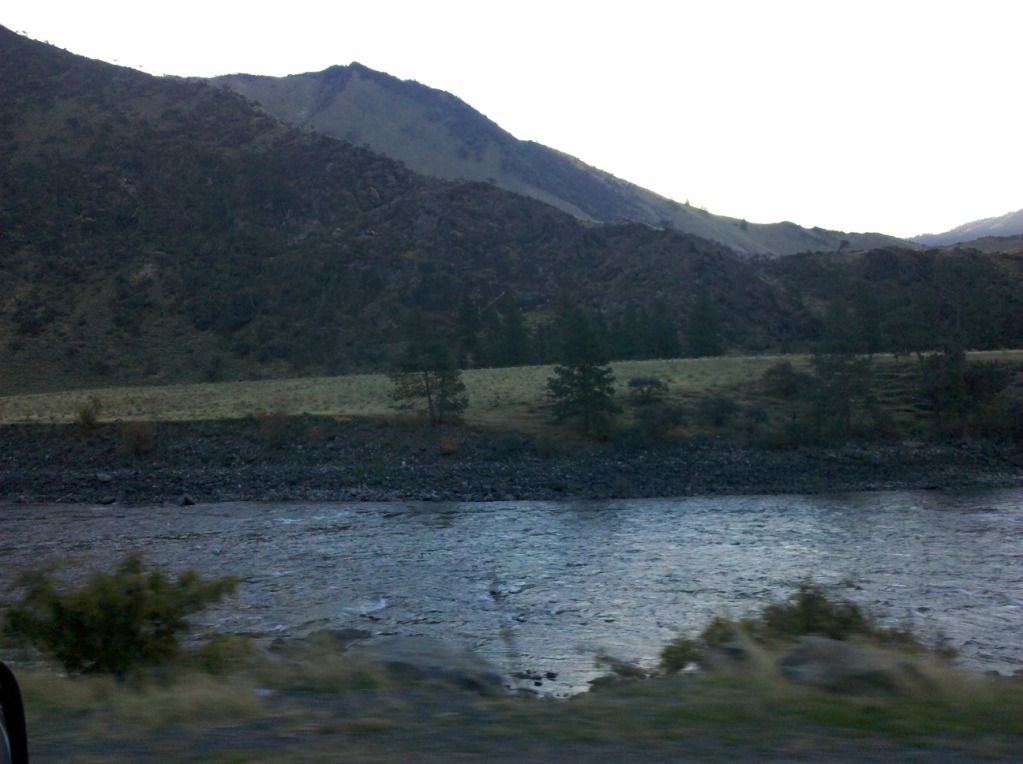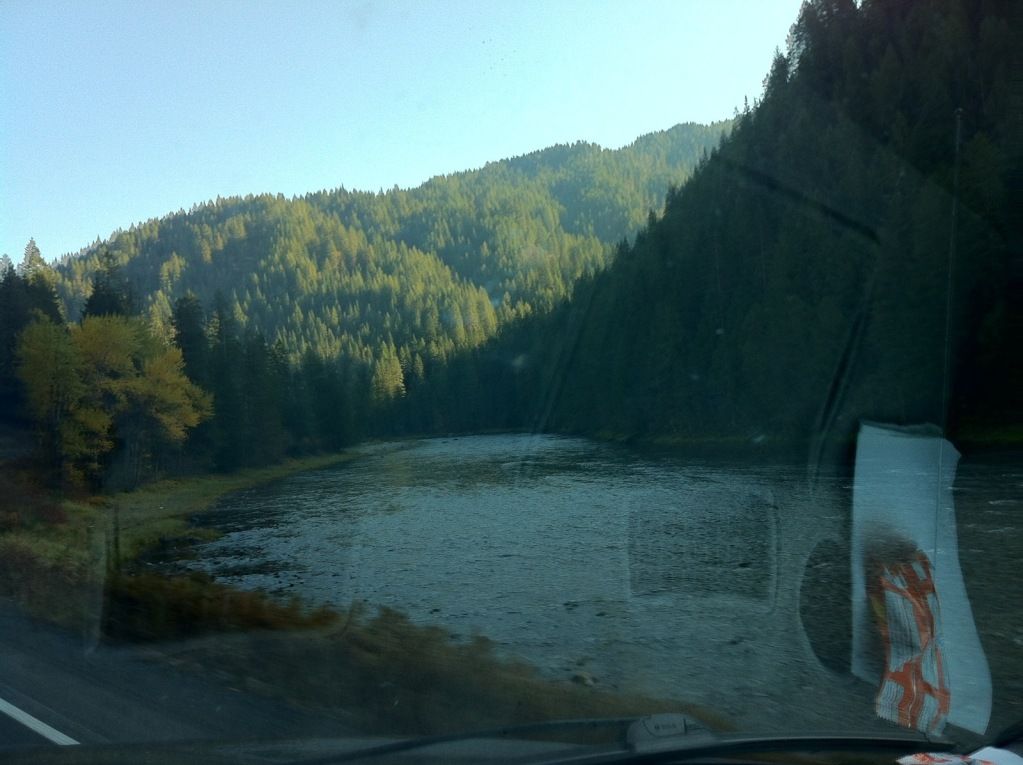 Just in case you didn't see it the first time... Here was my A-Driver!!!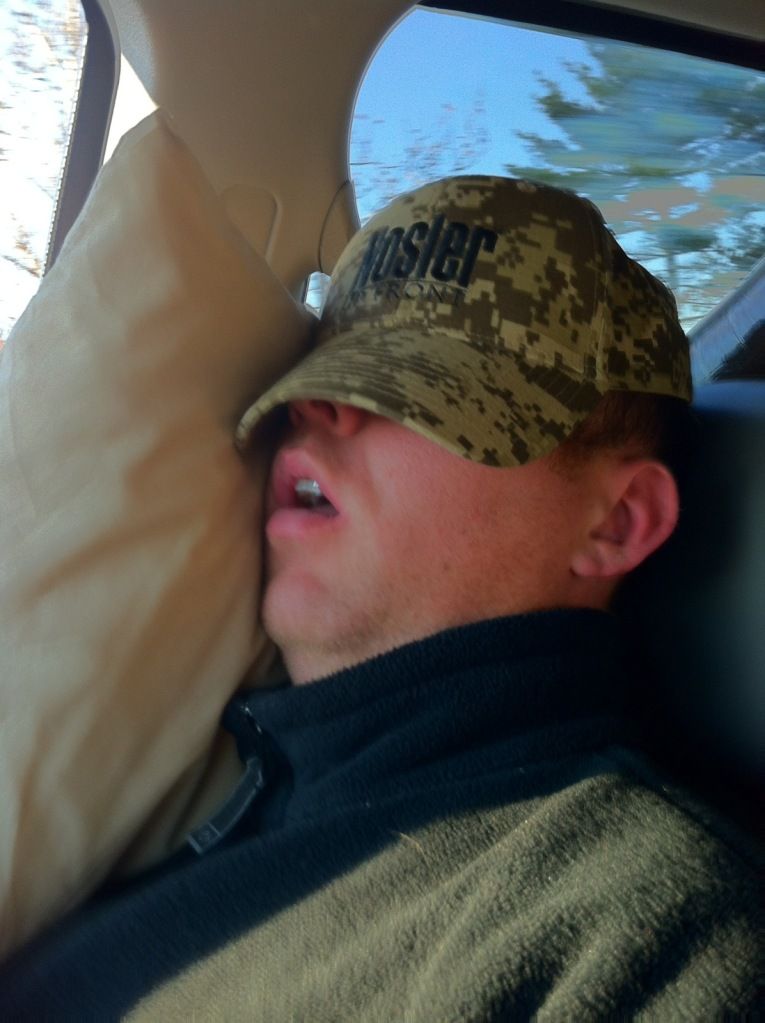 After pushing through Missoula and missing 6mm Rem, we pushed on to Billings. Met up with USMC89 and had supper on him. Great dude and very serious about his hardware. Matter of fact, we checked them all out in the parking lot of the Outback! HA! Great time there, hope to meet up again.
Well, after supper, we moved on to North Dakota, tried to get ahold of Rod in ND, but I we missed him as well. SO, we pushed into Minnesota. We met up with 257 Ackley (AKA JOEL), and he drove us into his new hunting grounds.
We toured some of his hunting camp, and racked out for a few hours. Woke up early in the afternoon and had some Chili and Red Breast for dinner. Sat around the campfire BSing and finally called it a night. He was still prepping his camp for the opener on Saturday, so hopefully we will hear a game report from him shortly. Would have loved to stayed and hunted those big MN deer, but the wives were starting to get a little antsy. We drove down through MN, stopped at the Rogers, MN Cabelas, got some gifts for the family, a little lunch and pushed hard...
We ended up right at Three Rivers MI around 2200-2300 to meet with JD338. He was gracious enough to feed me and Brian. I scarfed a huge rack of ribs and some coffee. We exchanged some bullets and talked about hunting to come! Great guy that Jim is. Finally good to put a face with a name.
We finally made it home around 1200L on Saturday Morning.. Wife was happy with me and Brian had to drive a little further South. Overall, great trip! Here is a shot of the overall mileage we got from the trip. I shot this a little early. Ended up being pretty close to 7,000 miles total, but well worth it. Had a blast. As I said, I missed a ton, and Brian and Bill will fill you in on alot, but this is the bulk of it. Can't say enough great about the hunt and travel. Scotty