Yesterday (12/14/2019) was the closing day of our rifle season here in Pennsylvania.
It's been a frustrating season. The deer have been moving fairly little, and I was constantly having "near misses" at opportunities. Archery season had been 10 weeks of that same frustration. I was, to be honest, ready for deer season to end, and ready for the break from it. It'd been 12 straight weeks and coming close only to have it fall apart at the last moment...multiple times...had been wearing me out.
I took a doe on our rifle opener. And I shouldn't minimize the taking of a doe. She will give my family lots of great meals this year, and I'm grateful to have had that opportunity.
I kept hunting, looking for horns. Yesterday morning was warm and foggy, with drippy trees that soaked everything. My enthusiasm was a damp as the woods. Nothing moving but squirrels.
I trudged out at 10:30 just before a front rolled in to dump rain all the rest of the morning and most of the afternoon.
I saw on the forecast that the rain would end a little more than an hour prior to quitting time. I figured, "it's the last day, I can't not go." I'd spread out my wet gear in front of my pellet stove and it was all dried out and ready. I geared up, grabbed my 35 Whelen, and headed out.
It was still raining. I put a cover over my rifle and trudged the long way to a field edge stand, intending to get there while it was raining to cover my sound and hopefully not have deer where they'd see me cross the field.
At 3:45, the rain slacked off, and the storm ended. The wind kept coming and going, and that was a problem. I figured the deer would come out to get out of the dripping woods and eat. They didn't come.
Quitting time was 5:05pm. At about 4:50 or so, I got a text from my dad that he had had enough and was calling it quits. He tagged a 6pt on the second day of archery season, a doe a couple weeks after that, and shot a doe on the rifle opener as well. He was not lacking for meat, but he was out to get out and hunt. He'd had enough, though.
I was not leaving. Not till my watch said the season was over.
I was mulling over my options for our late flintlock season, and how I was going to approach it.
At about 5:00, or shortly before, shots came from the neighbor to the south. I thought "gee, that must be pretty cool to take one at almost the last minute of the season like that."
I looked up to the northeast corner of the field and caught movement. Up came the binos, and I was treated to a large bodied deer with a big rack bobbing over his head as he trotted into the field.
Dropped the binos (they're on a harness!) and grabbed the Model 70. I turned the Meopta scope up to 9x and got him in the field of view. As he paused, I literally had a heart beat to assess range, align the reticle, and let the shot go. I knew he was far. I thought he was pretty far past a landmark in line with him, and that landmark was one I'd previously ranged at 233. Held about 2" below the line of his back, reasoning I'd get 3-ish inches of drop from my Whelen's 200 yard zero if that deer was beyond 250 like I thought. If not, I'll hit him in the spine and that'll be that.
Bang!
He just trotted on. Crap.
Cranked the bolt. It wouldn't run front. What???
I'd short stroked it and it hadn't flung the brass. Yanked that sucker back again, and as far as I know, that piece of Hornady brass is still flying. Rammed a fresh one up the spout. Tracked him in the scope. He slowed.
Bang! Fwwwwwwwaaaaaaaaaaaaaap!
I heard the big 250gr
Partition
meet its target. I saw the deer go down sort of like when you shoot steel plates and they get slapped down. It wasn't one of those Outdoor Channel "bang flop's" where the deer just sags and drops to the deck. Nope. He was slapped down. There's no other way to put it.
I was sort of in shock of what had just happened.
I got my gear out of the tree stand (meaning, tossed it down, lol), and trudged out across the field to see what I'd gotten. I knew he was big. I knew I'd seen multiple tines, enough to make me confident it was a legal buck (need 3 to a side). But I knew little else.
The time of my shot had been 5:01. Quitting time for the day was 5:05.
Texts started coming in from my dad and our buddy who were both still in ear shot of my rifle when this had happened.
I got to the deer. I had to take a moment, then I simply replied, "come up and see this."
Here's my buck...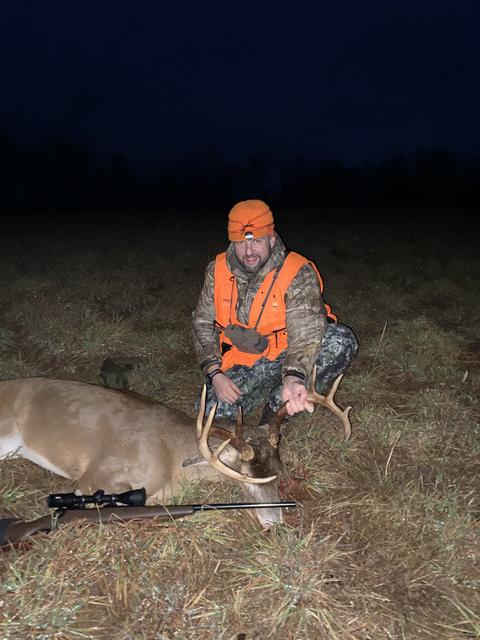 I'm still not sure this really happened!
I'm gonna call him an 11pt...he has a short G5 on his right antler (in the pic it's right below the base of the same antler, if you look there...you'll see it).
18.5" inside spread, 5" bases. 160lbs dressed.
I've always believed a season could change in an instant. I'd just never had it happen quite so dramatically before!