A little while ago, I acquired a 1954-vintage M70 in the venerable 270 Winchester. I actually picked it up the morning of Father's Day, now that I think about it.
After some delays in getting bases/rings, I got it all pieced together. I wound up with vintage Redfield mounts. They aren't my preferred mounting system, but they do work. I put on Leupold STD rings in "low," only to find they were a whisker shy of clearing the bolt handle. Drat. The stock is a "low comb" stock, so I wanted the scope as low as possible. I exchanged the lows for mediums, and now thing will work just fine. I don't think I can squeak Butler Creeks on the scope, though, to my dismay. I prefer flip caps, and I'm pretty sure they won't fit between the bolt handle and the ocular, but we'll see about that later.
I scored a good deal on a Cabela's Euro 3-9x42, which is a rebadged Meopta Meopro. Excellent scope, and at the price I paid, it was a no brainer. I compared it with my Minox, Leup VX7, Zeiss Conquest, and Swaro Z3 scopes. It held its own rather well. If not for the ultra fine reticle, it'd done even better. A good, bold #4 would make it really perform in bad light, as the optically ability is there.
Anyway, to the reloading....
A certain Nosler junkie Marine sent me some 150BT's to get me started with it, so I put a batch of loads together with those sitting on top of RL22 and headed to the range. I got to shoot to 200, which is a nice plus. I really need to find somewhere to shoot that's semi-close by and can get me to 400-500 yards. That would really give me a chance to put it all to the test. As it is, my max range is 300, which isn't terrible, either.
Here are the results: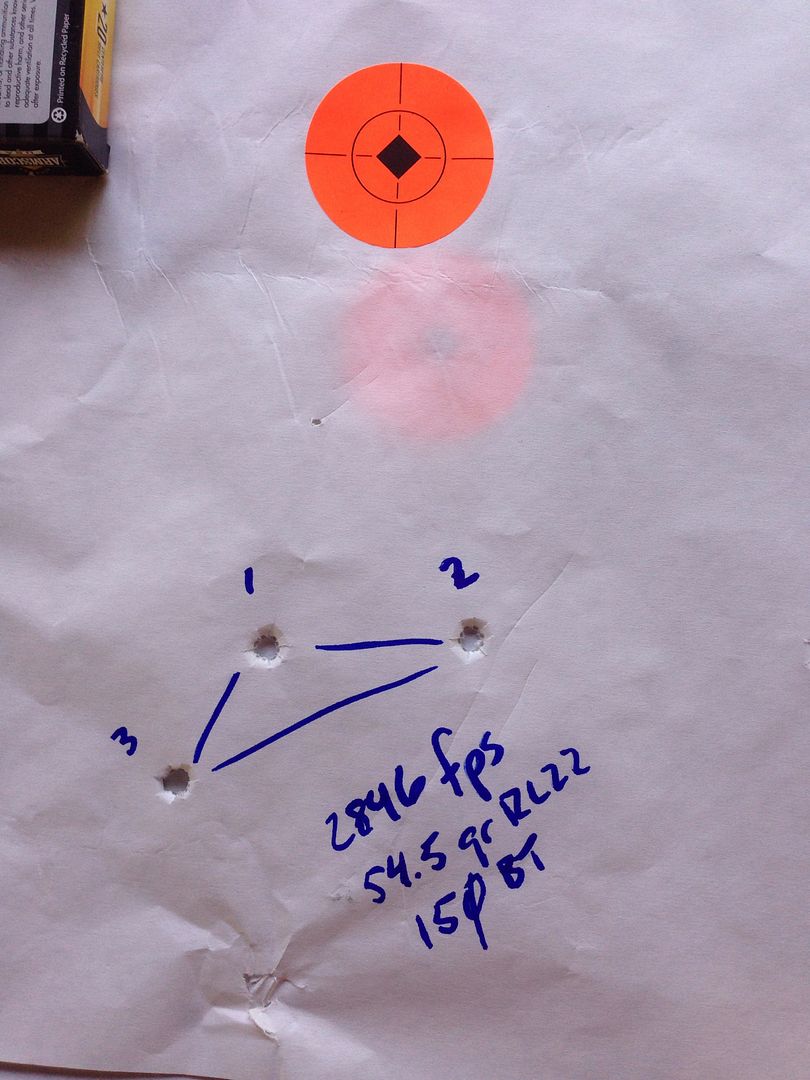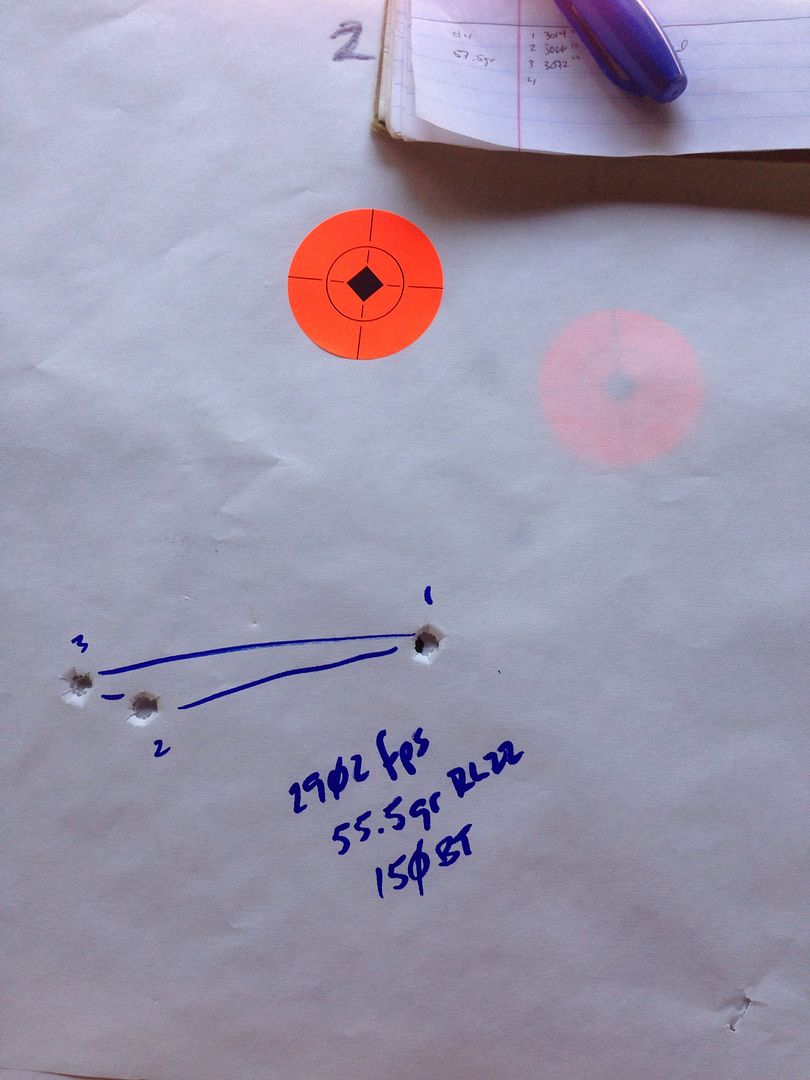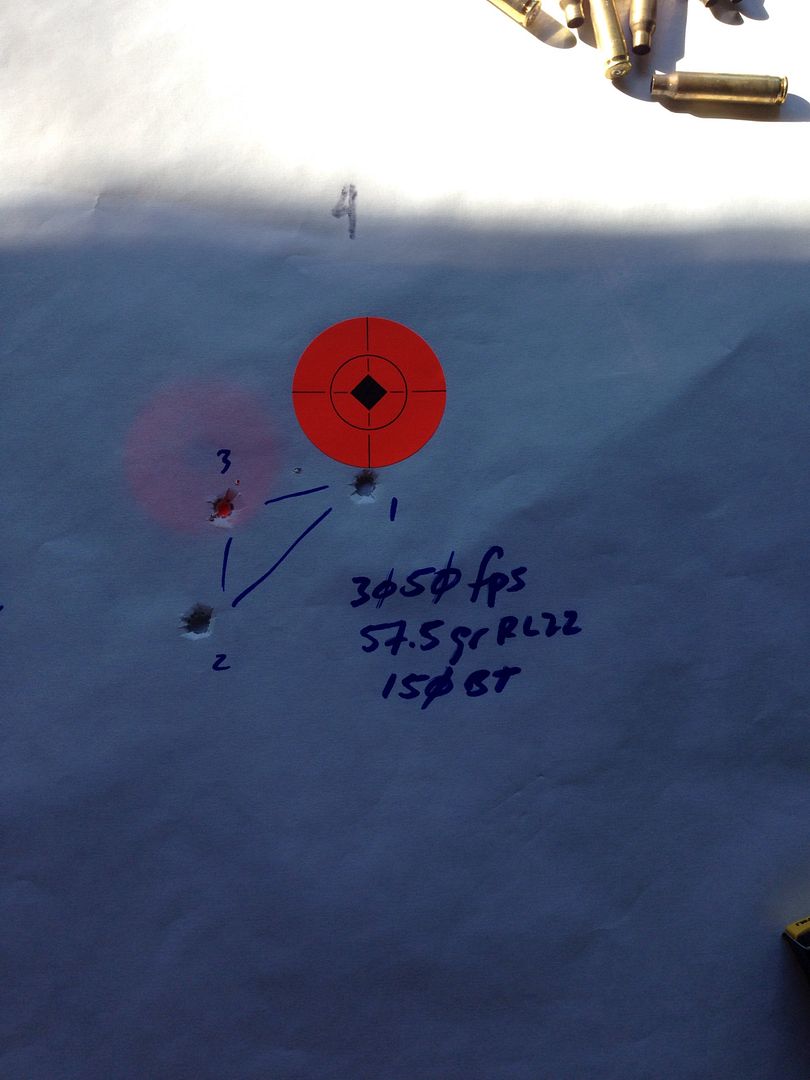 56.5 and 57.5 both have some potential. I've thought about running 56.0, 56.5, and 57.0 to hunt for a little improvement. Not sure if I want to do that or go straight to a seat depth profile on 56.5. The 56.5gr group measured out at 2.02" and the 57.5gr group went 2.75". Those were shot at 200 yards, and those are 2" dots.
The Meopta scope worked out quite well at the range. Tons of eye relief, great sight picture.....very positive clicks, although the dials are labeled dumb (have to lift the rifle to see them, not resettable to zero, and hard to read, but for "set and forget" they're good). The Meopta seems to track really well, too.