After much waiting, I finally got to the range to slam this Big Boy of a .30 cal hunting bullet into the infamous water-filled one gallon milk jugs. Was limited by my ammo supply, had only loaded five cartridges, because I only had five empty .30-06 cases! 52.5 grains of Ramshot Hunter, CCI 200 standard primers, WW cases, and of course the big 220 gr Nosler Partitions!
This is a big ol' heavyweight .30-06 cartridge - decidedly nose heavy when picked up:
Test platform was my ancient M1917 .30-06 with the original barrel bobbed to 21", topped by a 6x Leupold. The rifle has earned it's keep and then some. These loads shot low and left compared to my standard 165 gr load. Interesting.
Muzzle velocity is 2380 fps.
Hardly blistering, but it's a middle of the road load from a short barrel. Recoil was mild. I didn't do any serious accuracy testing. I did line up 12 jugs at 25 yards, just in case...
Immediate aftermath of the shot:
The Nosler was recovered from the 7th jug. It had dented the off-side of that jug, almost, but not quite, making it into the 8th water jug. Recovered weight is 137 grains, and it measures .477" in diameter now.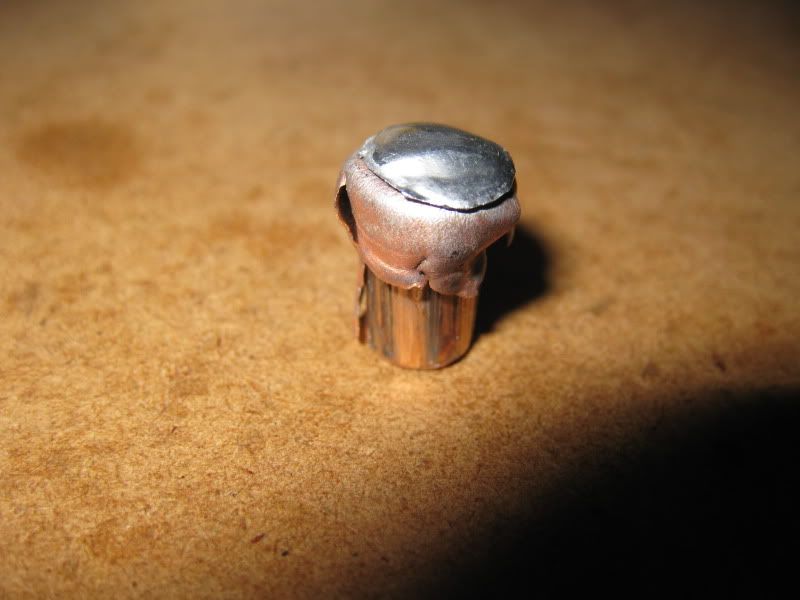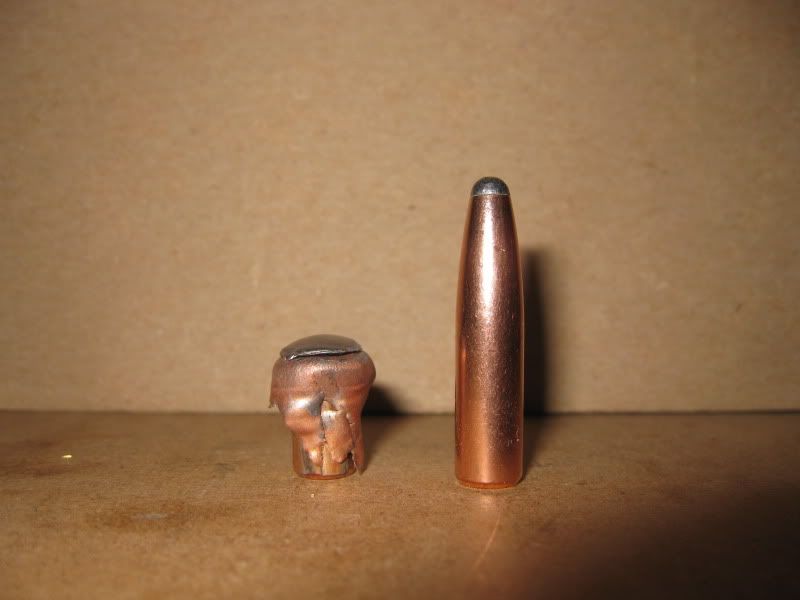 There was some speculation that it would penetrate even deeper, but I just didn't know. It looks, not surprisingly, like an expanded Nosler Partition.
To put the penetration in perspective, let's compare it with some other results we've posted, slamming bullets into the jugs:
.458" 350 gr Swift A-Frame @ 2040 fps = 7th jug
.458" 405 gr Remington SP @ 1330 fps = 8th jug
.375" 300 gr Nosler Accubond @ 2550 fps = 7th jug (Gerry)
.375" 300 gr Hornady BTSP @ 2521 fps = 6th jug
.375" 260 gr Nosler Accubond @ 2650 fps = 7th jug
.375" 235 gr Speer SP @ 2700 fps = 5th jug
.35 Whelen, 250 gr Partition @ 2450 fps = 7th jug (JD338)
.35, 250 gr Speer SP @ 2580 fps = 7th jug (Rovert)
.30, 200 gr Nosler Accubond @ 2800 fps = 6th jug
.30, 165 gr Nosler Partition @ 2750 fps = 5th jug
It all makes the penetration into the 7th (almost into the 8th) jug look pretty good. Re the retained weight - well heck - the Noslers do seem to shed a lot of weight from that front half. They've always been famous for that, and for the rear section continuing to penetrate. Looks like another good big game hunting bullet to me.
Dad used to always keep a box of 220 gr Winchester Silvertips around - just in case he wanted to go bear hunting again I suppose. This is the first time I've fired 220 grainers from the old .30-06 in a long time. They appear to go together quite well. I'd hunt with the 220 gr Partition!
Guy