As you can tell from my posts the last week I have been culling and reorganizing my hunting, shooting, and reloading stuff from the last 50 years.
Here are some bullets tests I performed in the early 1980's with the .264 Win. Mag. I had been told by a hunter that he had lost a bull elk because the bullet from his .264 Win. Mag. "blew up" on the shoulder. Having read the Nosler ads I wondered what the differences really were.
First off, I would like to mention that only in the last few years did I read that the original factory loads for the .264 Win. Mag. had dual diameter bullets to keep pressure down. I did not know that at the time I was performing these tests. The Rem. bullets are from factory loaded ammo. The Sierra and Nosler bullets were reloading components.
Today I checked the bullets I had from the early 80's and found that the Remington bullet was indeed a dual diameter bullet. The Sierra and the Nosler were not. However, the Nosler did seem to have a tiny bit of a taper to the main body of the bullet.
I shot these tests at the Grand Island Sportsmen Club on Grand Island in the middle of the Niagara River between Buffalo and Niagara Falls.
I had soaked Buffalo area phone books in water overnight and transported them to the range where I set them up in wooden troughs to "keep their shape".
The range was 50 yards.
I still have mental images of the cavities created by these bullets.
This was my epiphany that all bullets are not created equal and that care must be taken in selecting bullets for hunting game.
The Nosler
Partition
did, indeed, perform as advertised and had the deepest penetration and the most retained weight.
Rem. CoreLokt
Penetration 11 in.
Wound Channel Largest/shallow
Retained weight 73.9 gr.
Sierra Game King
Penetration 14 in.
Wound Channel Middle diameter of the three - tapered - larger at deep end
Retained weight 68.5 gr.
Nosler Partition
Penetration 15 in.
Wound Channel Smallest dia. - tapered - larger at entrance end.
Retained weight 98.3 gr.
From left to right: Rem. Core-Lokt, Sierra Game King, Nosler
Partition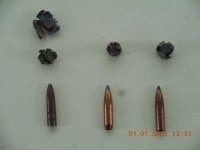 Based on these findings I used the Core-Lokt for hunting whitetail deer, the Game-King for hunting mule deer, and the
Partition
for hunting elk.
Never tagged a mule deer or elk with the .264 Win. Mag. The Core-Lokt bullet sure knocked whitetail deer down but (in my opinion) it would have been totally inappropriate for a shoulder shot on an elk.
Dan