Kenzie, her little brother, my wife and I decided to go out west tonight to see if Kenzie could get her 2nd Deer for 2011. We headed out of Rosholt at 3:08PM, and drove the 21 miles to our hunting spot. This hunting spot is a full section of land all in CRP with a rail road right of way cutting it in half (the rail road right of way runs east to west). I drove down the rail road right of way to the spot we normally park and as I was turning around two deer got up out of the ditch about 30 yards in front of us.
I immediately shut off my Blazer and got Kenzie in position with her moms 18 1/2" Stainless-Steel Ruger KM77RFP MKII .308. One of the deer ran northwest out into some thick CRP while the other one ran south a few yards and stood in the tall grass facing us. As (what turned out to be a button buck) turned and ran I bleated a few times to no avail. The little buck made a circle and came up on the rail road right of way about 125 yards west of us. Kenzie was ready so as I bleated the little buck stopped and the .308 barked. At the shot the little buck went straight down in his tracks.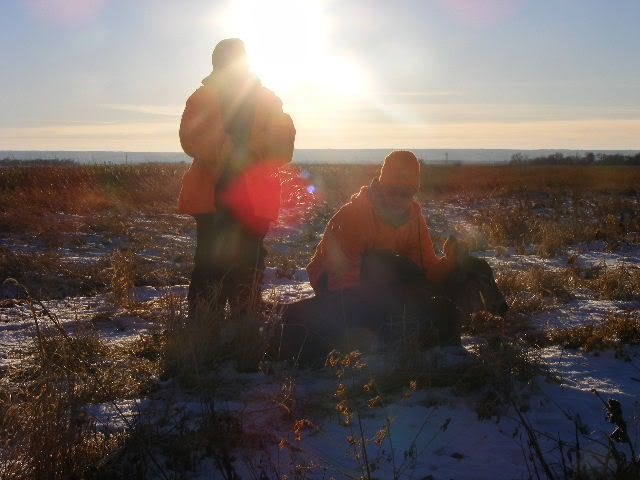 The above photo is not very good (I guess I need some lessons in photography) but in it are Kenzie, her little buck and her little brother Alex.
Grandma, Kenzie and Alex helped me with the field dressing chores. To be honest I am not totally sure where Kenzie hit the little buck as I did not see a hole in the rib cage. I am thinking maybe she spined him but will know more when I skin the little buck tomorrow.
This was too easy. From the time we left Rosholt to the time we were back in Rosholt ready to hang Kenzie's little buck in the garage was 1 1/2 hours (and it is 21 miles each way to our hunting spot). Oh well I guess that makes up a little for the one I had to search for for 3 hours after the shot.
Thanks for reading.
Larry