I posted this on another forum, but as I have just joined this site and saw this section it seems entirely appropriate to share the results of the following fairly basic experiments I did in this section. Sorry, the methods are a bit crude but for a bloke from the scrub it was as about as good as I could do.
I did two separate tests so I will post them one after another....
Wanting to compare a variety of different bullets in my 270 I found it difficult to benchmark one against another because shooting animals with them results in different circumstances every time. ie Sometimes the animal is big, small, you hit bone or you don't, or the range is different with each shot.
Obviously I don't have ballistic gel, and I have done the wet newspaper thing before but found it too soft, not much of an indicator of what a bullet does when it hits something hard.
So right or wrong I modified this traditional test by sandwiching both dry and wet paper together to simulate the bullets passing through soft flesh and harder, denser parts like ribs, fighting pads on pigs, thick skin etc. I alternated 1cm of dry paper with 1cm wet, over and over.
Definitely not a perfect medium, but a rigorous one for sure and one which would subject the bullets to a hard test. Perhaps too rigorous, but that's ok. I mainly shoot pigs, some of them are big, and there's nothing soft about them. Pound for pound I firmly believe they are harder and tougher than the likes of deer or goats and that's the criteria I was looking to simulate.
So now to the contenders for Bob's pig bullet test. I tested only cup and core bullets. There were no all copper or other homogeneous metal bullets like the GMX or X-Bullet. There were also no bonded bullets like the
AccuBond
or Scirocco. The only reason for this was that I don't use them. I have used the
AccuBond
before in a variety of calibres but for the extra money I found I was just as well off using a heavier non bonded bullet at half the cost. If I had had any of these though I surely would have loved to test them against the others.
The rifle was a Zastava bolt action with a 24 inch barrel and a 3-9 Sightron scope in 270 Win. Standard fare for a knockabout hunting rifle. The bullets were all in handloaded rounds, using ADI powders of medium-slow variety. The loads were generally mild to slightly on the warm side. They have all tested as being accurate in this rifle and show no signs of stress re excess pressure.
The only "premium" bullet I did have to try was the 160 grain Nosler
Partition
. I have not used this bullet on the pigs before, having only starting developing loads for them a few months ago. I bought these at a good price to use on the odd occasion I might get after a really big deer, or scrub bulls, donkeys, camels etc. I imagine the 150 bullets I bought will last me quite a few years. They are nice and accurate and seem quite comfy being driven between 2800 and 2900 fps.
The others I tested were the 90g Sierra HP, 130g Hornady Interlock SP, 130g Speer Hot Cor SP, 130g Nosler Ballistic Tip, 150g Hornady SST and the aforementioned 160g NP rounded out the six.
This lot represents a relatively incongruous sextet I admit, but this is what I had and covers a range of applications from light varmints, through medium game right up to a couple of true big game bullets.
All shots were fired into the same bundle of test paper, from a distance of only 15 yards. This ensured I was able to evenly space out the bullets in the media, and to accurately state the impact velocity which was important to me. To that end of course, impact velocities were relatively high and results would vary at realistic hunting ranges. This latter notion will be the subject of further testing later.
So in no particular order, here were my observations:
160g Nosler
Partition
Impact speed: 2820fps
Distance penetrated: 280mm
Retained weight: 129g
Comments: This bullet lived up to its premium billing. It out penetrated the next best by 55mm and its retained weight was equal highest %. It created a nice wide consistent wound channel, and mushrooms nicely despite the harsh dry paper it had to repeatedly punch through. Some of the front core was wiped away however the bullet remained intact. It would have been great to benchmark this against an X-Bullet or similar.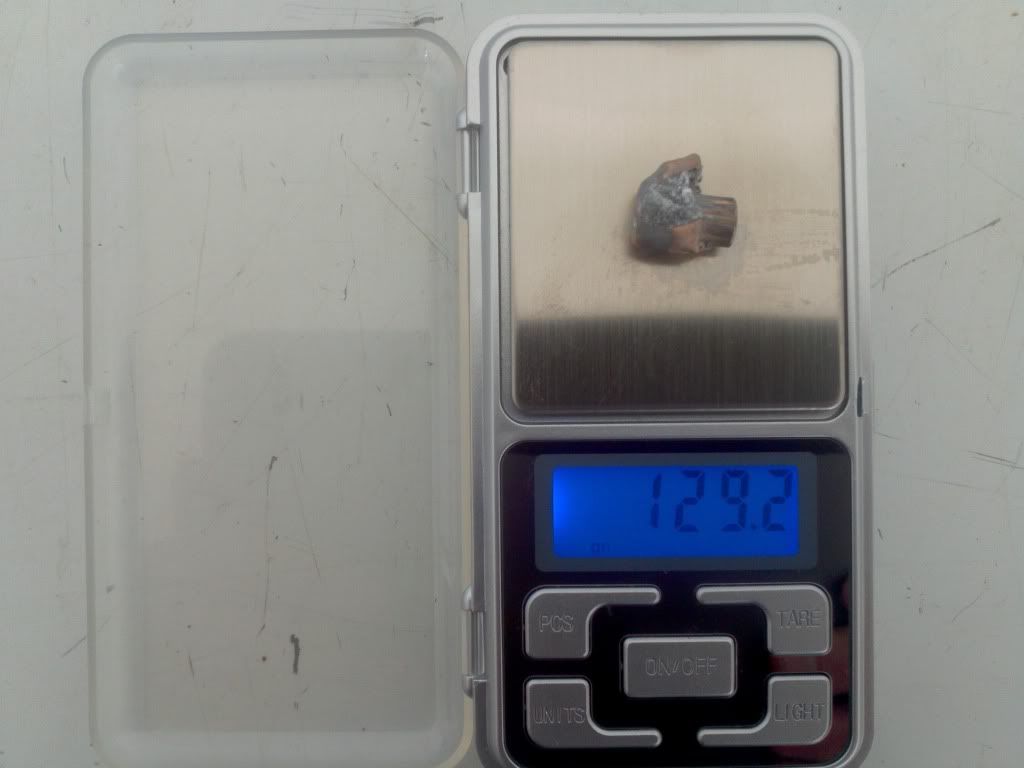 150g Hornady SST
Impact speed: 2925fps
Distance penetrated: 225mm
Retained weight: 120g
Comments: This bullet created a big wide wound channel right through the media, starting expansion early and then maintaining that big hole right to the point of stopping. The recovered bullet was the widest of all recovered, and if somewhat flattened compared to the NP, it just pipped the bigger bullet for % of weight retained. This is my favourite big game bullet in the 270 because I have found it more consistently puts down pigs of all sizes quickly, it shoots damn flat and is very accurate. At less than 50c a shot in Australia it's economical enough too.
130g Nosler Ballistic Tip
Impact speed: 3075fps
Distance penetrated: 185mm
Retained weight: 62g
Comments: The NBT created the widest wound channel of all the non varmint bullets. It tore up more paper and really pulverised it. It also penetrated the least with the exception of the 90 HP. Don't think I am criticising it though. It performed well, just the way it is intended, but the more rapid and wider expansion naturally reduces penetration. Given the harsh test media, the loss of over half its weight was not a surprise and the recovered bullet was still a solid well formed pill. In this aspect it was on par with the other 130g bullets. These bullets can be driven safely up to 150fps faster in my rifle but this load is accurate and easy to shoot.
130g Speer Hot Cor
Impact speed: 3040fps
Distance penetrated: 205mm
Retained weight: 59g
Comments: This is a really accurate and mild load in my 24 inch barreled rifle, it puts 3 of them into half an inch at 100y and has proven a consistent killer on pigs out to over 200y.
Given the Hot Cor's rep for toughness I was a little surprised that it broke up as much as it did, the lowest weight retention of the non varmint bullets, though the recovered pill was still a cogent representation of the original, considering the ordeal it went through.
On this theme, I believe a lower dry to wet paper ratio would be less harsh and more realistic? In any case it was consistent for all during this test.
In any case, this bullet was a good penetrater, with a good consistent wound channel at a modest velocity. For the price of about 35c a piece in Australia, it's a winner.
130g Hornady Interlock SP
Impact speed: 3080fps
Distance penetrated: 220mm
Retained weight: 63g
Comments: Considering the price and weight of this bullet, I was surprised at how well it performed. The penetration was only 5mm behind the 150g SST, with a nice wide wound channel. The retained weight was identical to the NBT, albeit with a smaller wound channel but far better penetration. At around 40c a shot, this test indicates its a great all rounder.
I have driven these reliably to 3240fps in my rifle. I don't think that speed is necessary however, nor would it be conducive to good performance such as I saw at this speed.
While this bullet penetrated nearly as deep as the 150 SST, the bigger bullet made a wider wound channel and retained twice as much weight. In my view this ensures the bigger bullet more consistent performance, especially if heavy bone is struck.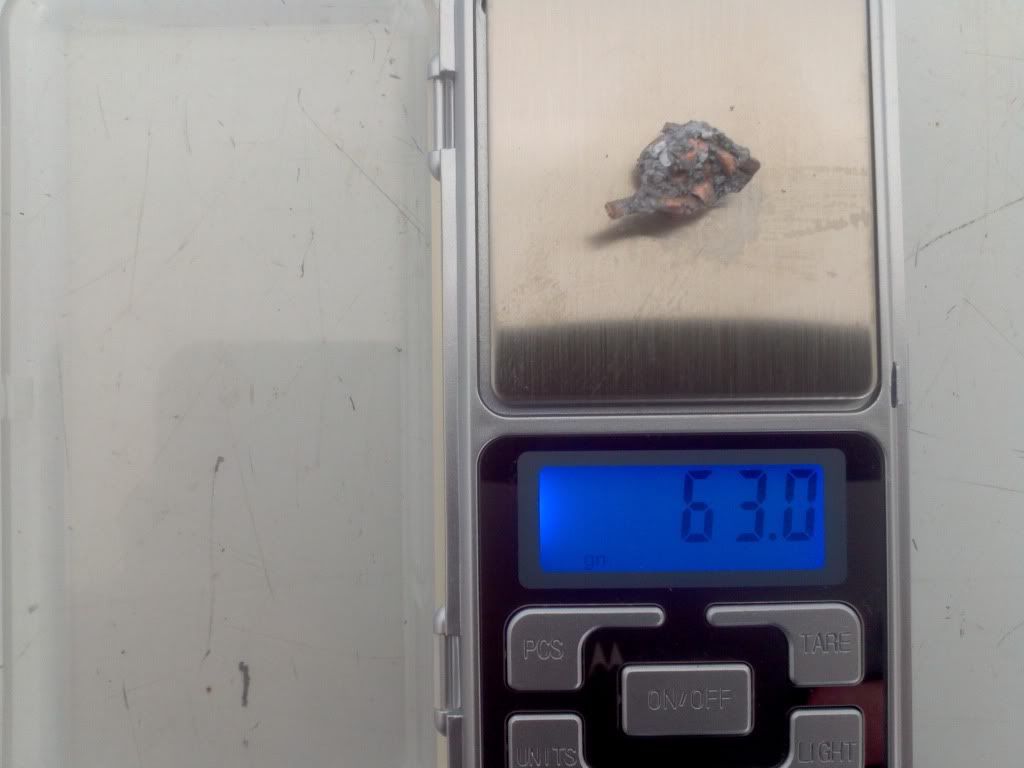 90g Sierra HP
Impact speed: 3400fps
Distance penetrated: 135mm
Retained weight: zero
Comments: In this loading the little 90 grainer was loaded pretty mildly. I have pushed these up to near 3700fps so this impact velocity would be a fair indicator of performance out at more realistic ranges.
Though this bullet understandably didnt penetrate nearly as far as any of the others, interestingly it didn't begin to penetrate at all until it had travelled over 70mm through the test bundle, whereas all the other bullets started to widen almost straight away. Once this bullet went about 80mm however it blew up completely, and there was nothing left but small fragments at the end of it's travel. The fact that it didn't explode straight away when it hit the first layer of dry paper was encouraging that at a pinch you could use it for medium game, provided you landed it in the ribs. Other than that it did exactly what you'd expect it to do.
General Comments:
As stated above, the harshness of the test media might have been a little extreme. A little more wet paper and a little less dry might be more useful. Also, the close ranges involved exacerbated this effect. Perhaps a good example of worst-case performance however.
Its a shame I didn't have a 130g SST to benchmark against the NBT or the bigger SST. My experience with the smaller SST on pigs lends me to think it would also expand very quickly like the 130 Nosler did.
It was good to benchmark like-for-like with the Interlock vs the Hot Cor. The 130g Interlock for a lightweight cheapy, really did the business. I like those bullets for pigs.
The big
Partition
showed the value of it's price tag. Cheap insurance for the hunt of a lifetime. If they weren't the best part of $1.20 a piece here I would use them a lot more for general shooting. As I said, it would be good to repeat this test, pitting the NP against the likes of the X-Bullet and the Accubonds. Maybe next time.
For middle of the road price and all round solid performance, I am now even more impressed with the 150g SST. With good penetration, a big wound channel, and equal best retained weight percentage, it's clearly a fantastic general purpose bullet. Great out at long range too with a BC of 0.525.
There are a few notable absentees that would have rounded out this cup and core test, such as the Pro Hunter and Gameking, Powerpoints and the Core Lokt of course. Maybe I will need to open a gun shop if I am gonna test them all!