Well, my curiosity kinda got the best of me. Jorey and I, along with a few others were bad mouthing the old 30-06 and somebody put up some charts and I got to looking at them and thought maybe the 06 has some steam to push some of the newer higher BC'ed bullets. So I went out for a ride on the scoot and stopped at my local bait and bullet store to see what they had. I scored 7lbs of the VV N570 powder, 8lb jug of Staball 6.5, a box of 212 ELD X and a box of Sierra 300 SBT for my 375.
It's nice to have bags!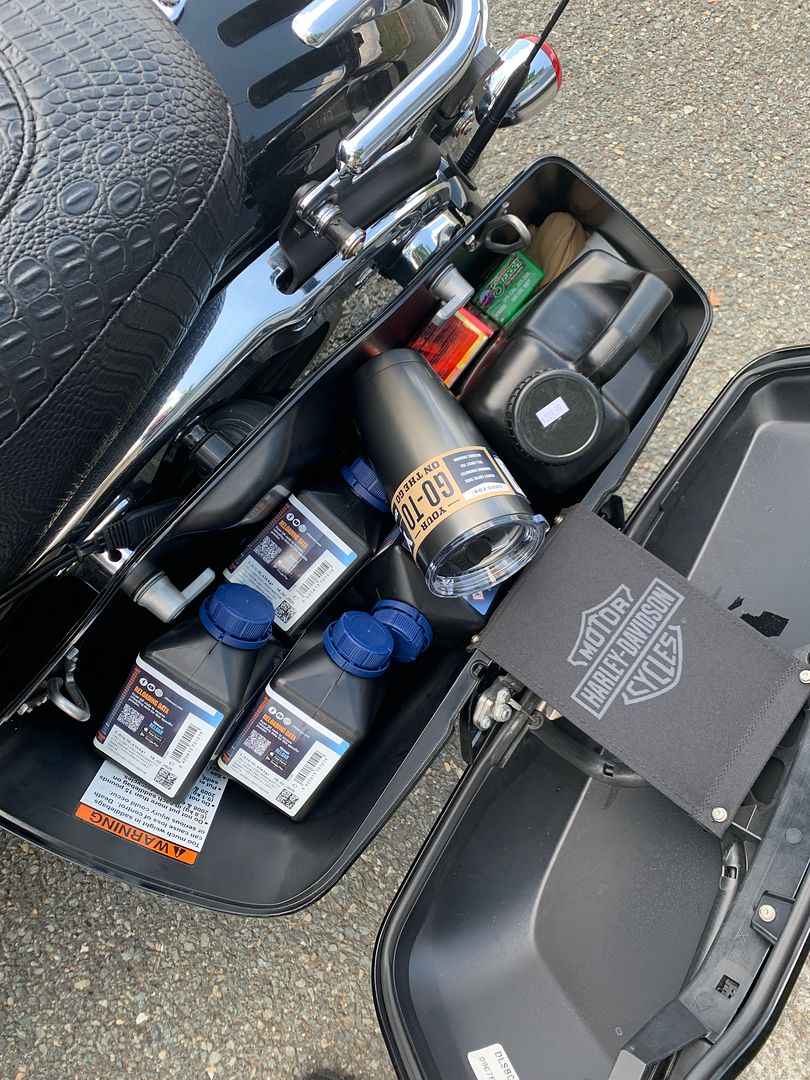 So off to home I went.
I sized up some fired Lapua cases and measured the distance to the lands in my P64 with an ELD. Went 3.415 to the lands. I said to myself, this just may work. I know my guns functions best at 3.4 or under so they'll have a little jump. I checked Hodgdons data and started with their minimum charge and fired it over the Magnetospeed.
50 grains was the min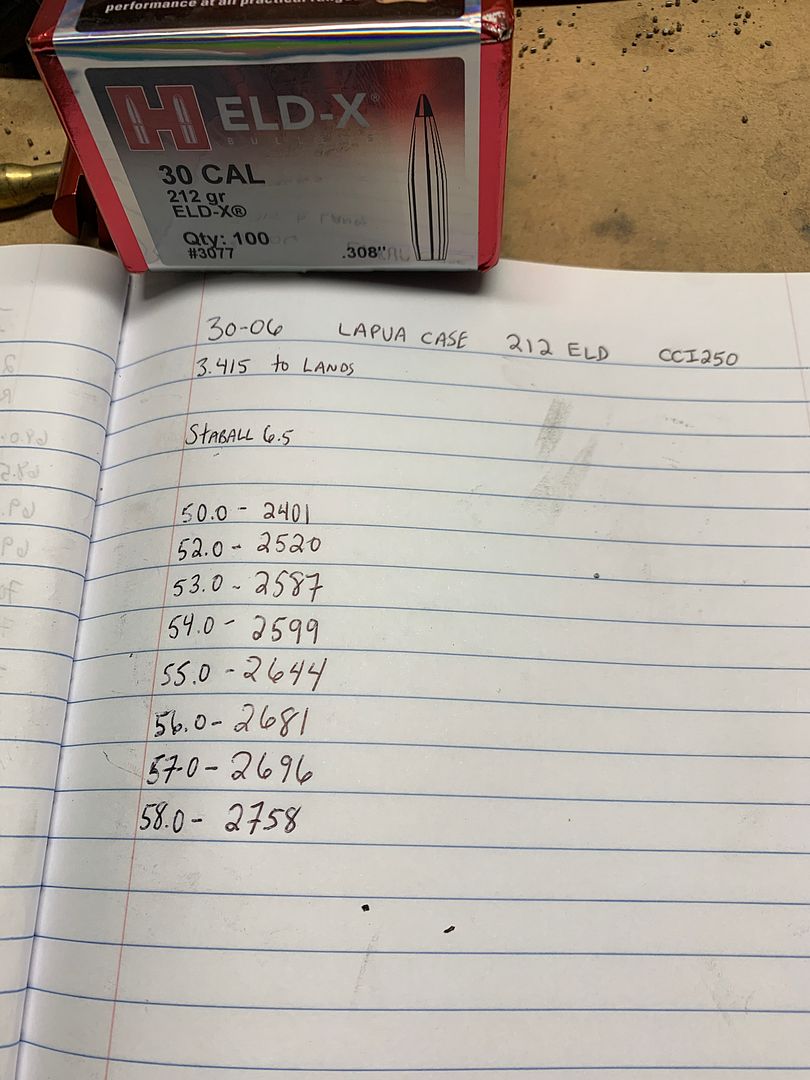 That went 2400 so I kept loading 1 and shooting see where it went. Well, I pushed past their max load, which I wouldn't suggest for new loaders, but having an accurate chrono makes me feel okay with loading to their speeds and since it's loaded to about 59k PSI I knew I had a little wiggle room at the top.
I stopped at 58 which is a full 4 grains over their max change and almost 100 FPS faster. So once I had some data I wanted to work in the 2650-2700 range.
I dropped back to 56 and went up to 57.6 and came up with two nodes in there that look pretty good.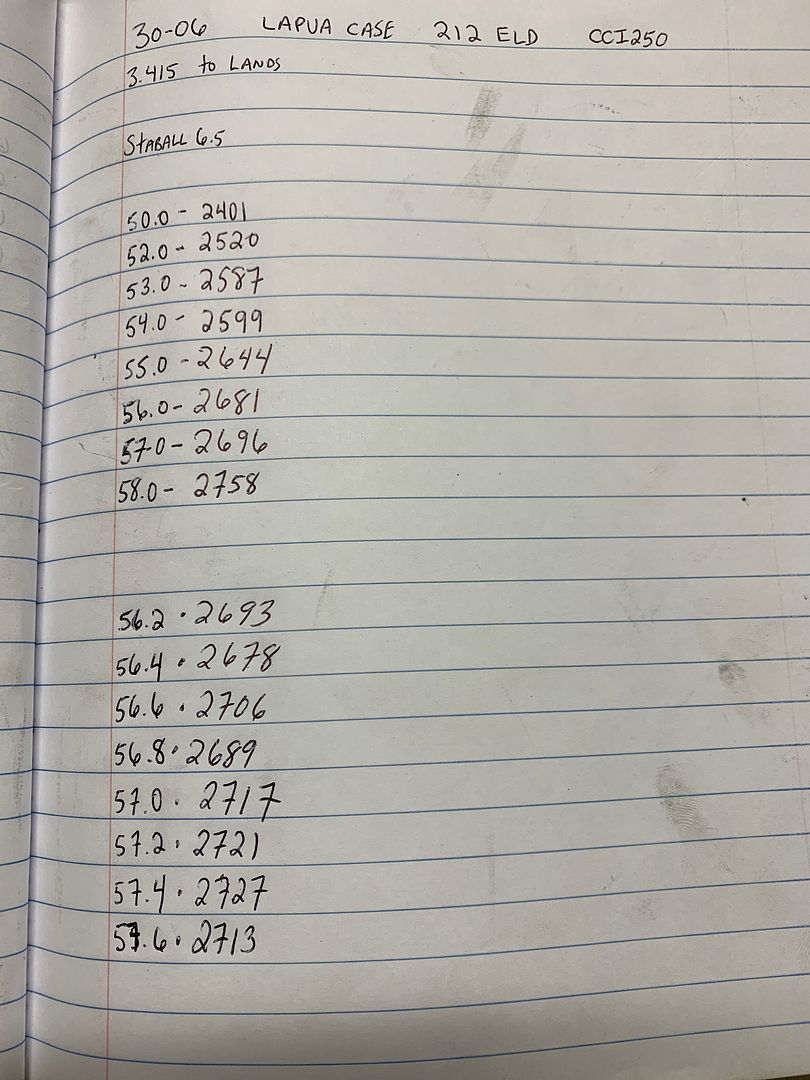 I loaded 6 rounds each of 56.5 and 57.3.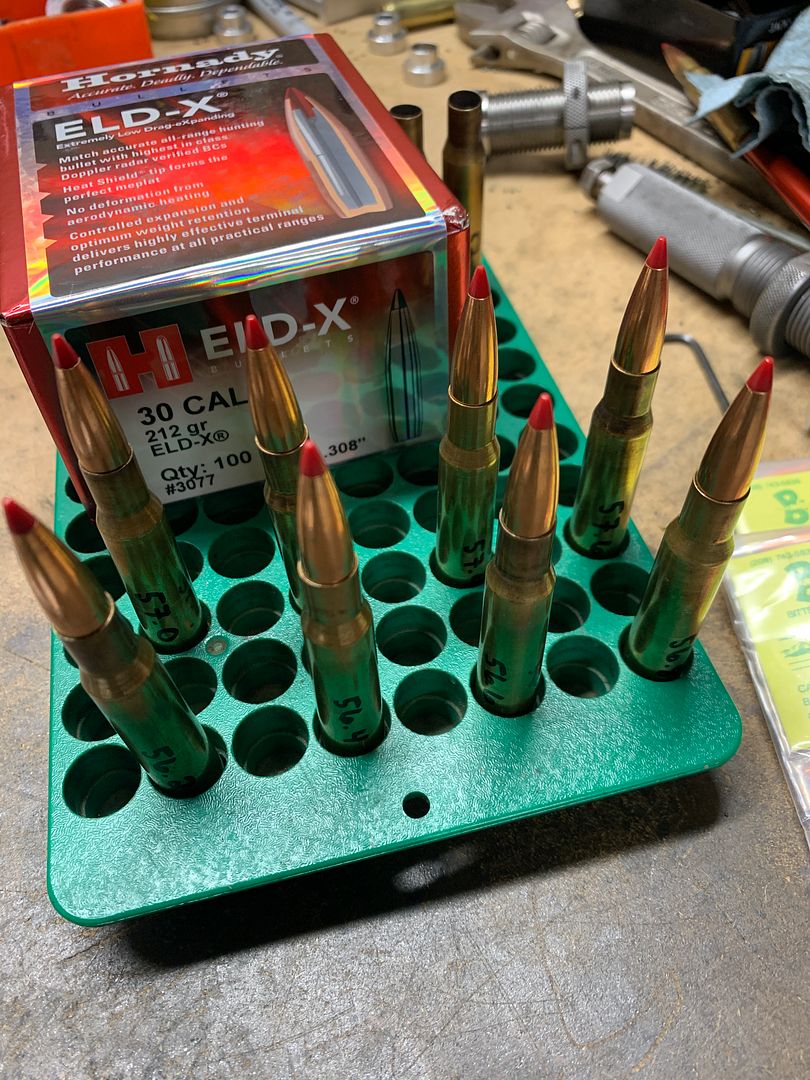 Just for notes if you're tracking I also used CCI250's for a primer.
So I haven't ran it through a calc yet, but a .676 BC doesn't fair too bad at distance. And 2700 will never tear one up.
I think you could do about the same with a 280 and the 180 ELD as well which'll whoop them 06 some but they aren't too far off.
Hopefully I can shoot it soon and I'll report back. It'd be kinda neat if they shot decent. That's a pretty powerful combo really and not horribly slow either. I can't imagine many elk or deer that'd shrug one off and if they shot decent I'd be willing to take it into elk country.