So, I had this rifle, bought it quite a danged while ago for the action to build my 7mm Mashburn off of. It was a rechambered to 300 Wby from 300 H&H. I didn't much care anyhow since the rifle was pretty nice and the metal was good, I didn't pay much for it, so I never paid too much attention to it honestly. The original wood stock was pretty nice, but it was refinished and shortened as well.
Anyhow, I found another action from my smith for about the same money, so I used it for the Mashburn. Well, I liked the rifle enough to stick it in a McM Legend and it was a sweetheart to handle.......
So I had this 300 Wby, tried a few times over the years to see how it would shoot and nothing I ever did could make it shoot. I tried Barnes, Nosler, Sierra, Hornady, Swift... 180's, 200's and 165's.. Tried IMR4350, 7828, RL26, etc. Nothin...
So I got to thinking, I'll just rebarrel it and make it right.. Then I got to thinking, I don't have a 375 so maybe a rebore would be fun, you know, just to try a 375 out. I called JES and he said a 375 Wby would be easy.. Well, I asked for him to do a 3 groove, 1-10 twist in 375 Weatherby.
I got the rifle back this past Saturday and the note said he couldn't do a 375 Wby for some reason and he made it into a 375 H&H Ackley. Don't know why, nor really care as the Wby and Ackley are the same really and I don't have to deal with Wby freebore, so it's all good there.
I had 36 Remington cases left over from when I loaded for a buddies 375 and just so happened to have the same amount of 260 Partitions.. So, I started loading them up. Pulled out the trusty Nosler manual, saw a top load of RL15 was 72 grains, so I backed up and loaded a couple with 71 grains, just to see how they'd form.
I said alright, this'll work.. So I leaded the rest of them up and started shooting 5 rounds at a clip..
I was shooting the rifle with the iron's that come on the gun and so far I was loving it.. Just a fun gun.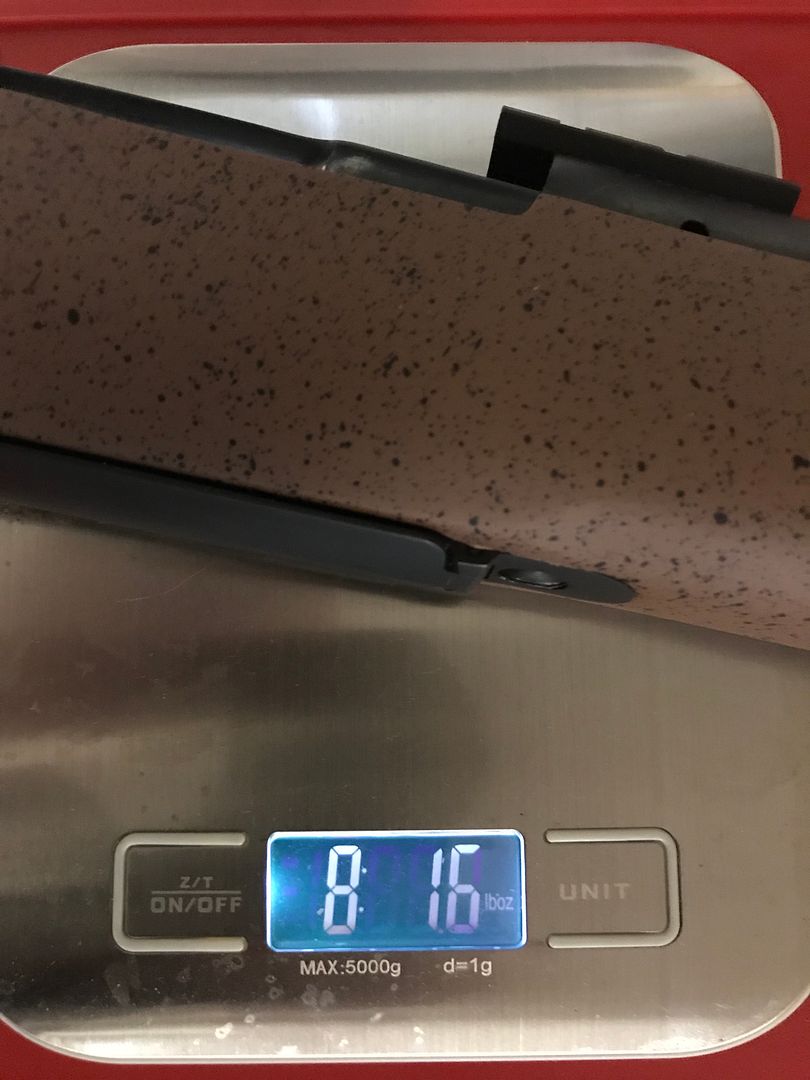 Was pretty surprised when I weighed it.. thought this might about right with a scope on it..
So, I had an old 6X Leupold and a set of Warne MountainTech 1" Low rings..
I thought, shoot, this is just about right for a portable 375...
So, I started zeroing it up the next 5.. Came right onto paper real easy. Praying the old 6X stays on point, if not, I am sure I can find something else..
I also was scrubbing the barrel down every 5 rounds to bare steel. JES's rebores have always shot well for me, but they grab up the copper.. After 5 rounds it looked like the bore was copper lined, so I attacked it with some JB's bore paste after every 5 rounds.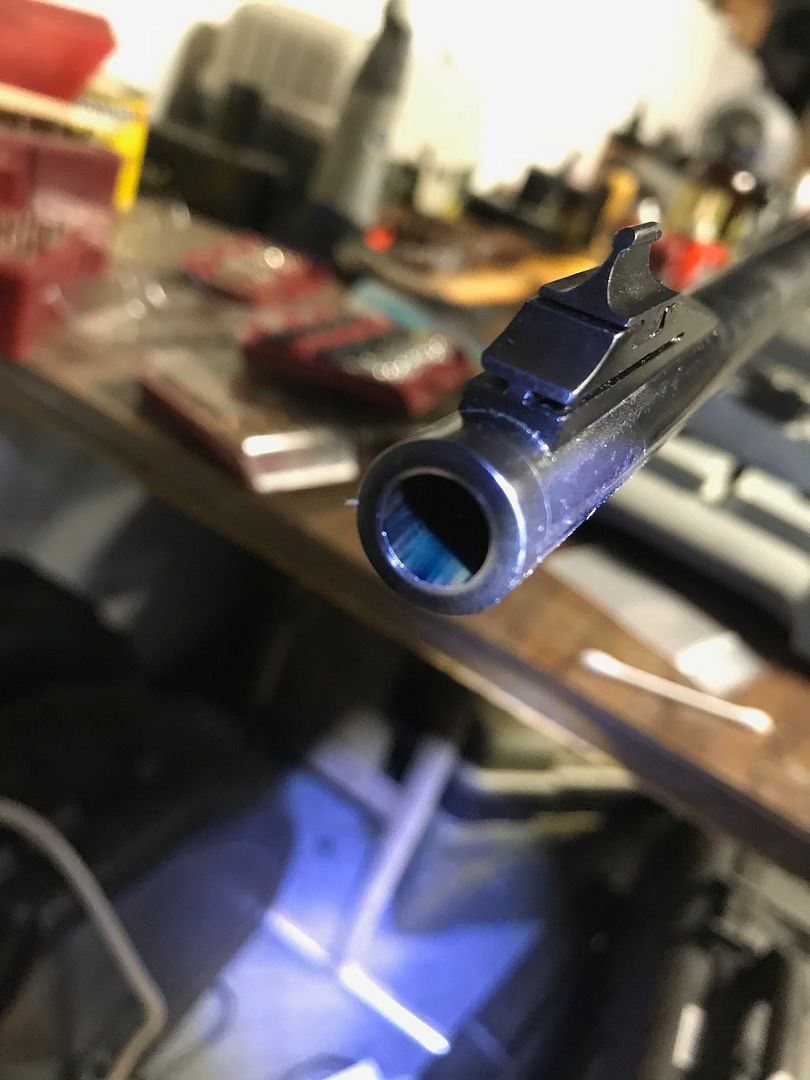 After 30 rounds the copper build up was WAY less so I scrubbed it down to bare steel again and coated the bore with Dyna Bore Coat this last time.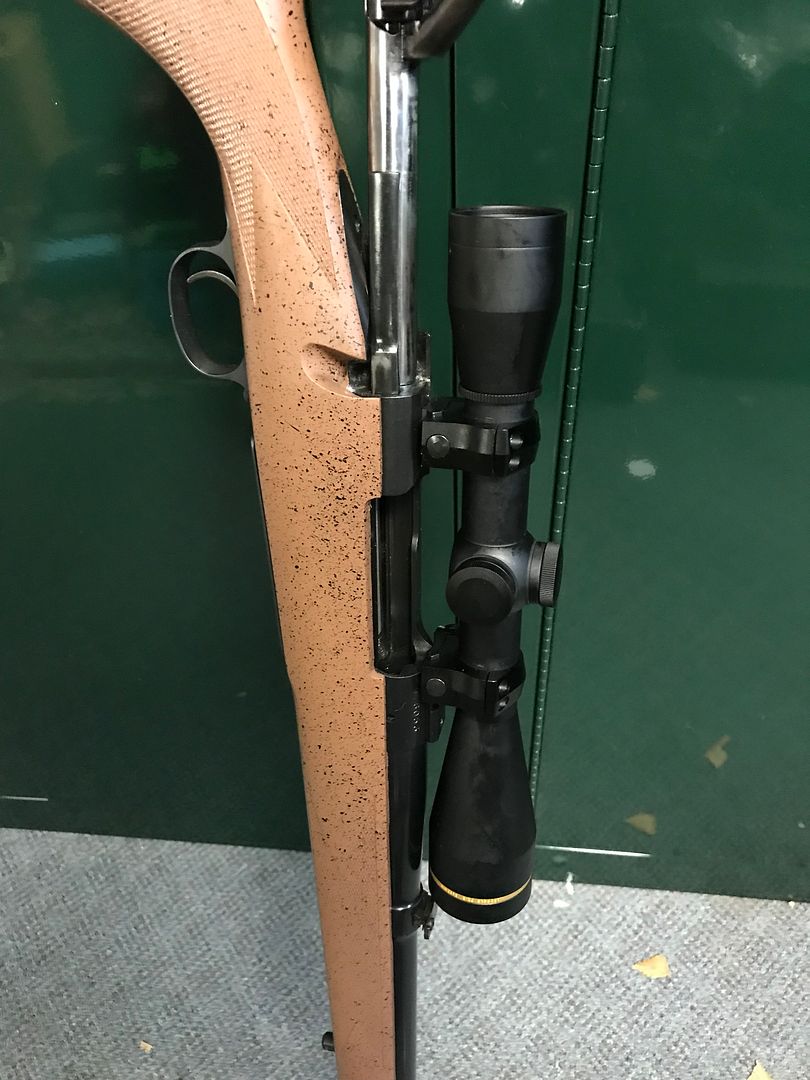 So, I have 6 rounds left and I'll use those to cure up the DBC.. I kinda wished I got the rifle a couple weeks ago, might have been handy in the timber country I am headed to on Wednesday for elk, but I'll sort out another use for it, maybe? HA!
I ordered 375 Wby dies, so I need to exchange those 375 H&H AI dies, so I am waiting patiently for them to get back to me.
I am pretty happy though, got to keep the old barrel with the factory sights on it, the rifle still looks like a P64 and so far, I think it'll work decently. Hopefully it is like all of the other 375's and shoots like crazy.