A mix of different rifles but always include a load I'm working on with the Sauer. It shot Hornady 165's 1/2" on the button with both IMR 4064 & 4350.
Moved onto 150's and the easiest thing at the time was just to load up 3 each of a variety of bullets at a set charge and distance off the lands for each and see what it liked best.
Here's the result of that in order loaded at 52 grains IMR 4064 and just a random set seating depth of .040 off for each bullet.
Hornady's shot just under an inch, Sierra GK's shot right on an inch, Sierra PH's shot 1 1/8" and Speer's shot about 1.5" . Any of them could likely be made way better with changes in seating depth, but went with the Hornady since it started out the best.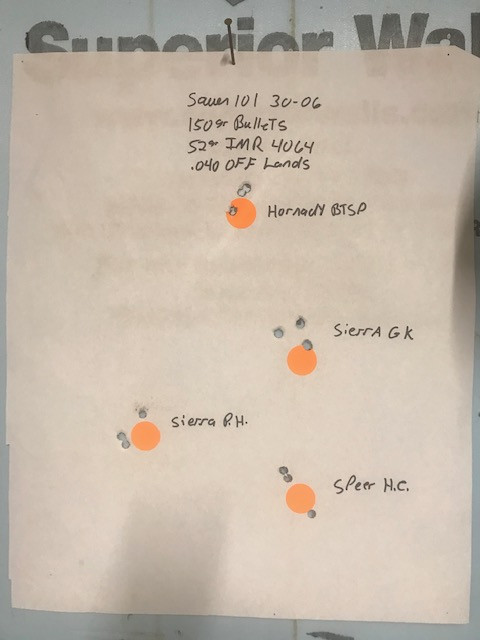 Going to .025 off shot in the high 5's, going to 52.5 grains and .020 off shot in the low 6's. 52 grains and .010 off might shoot bug holes, but I don't go closer than .020 for hunting loads so I'm pretty much out of room for improvement. Tested the 52 grains and .025 off load numerous times and it hangs right there.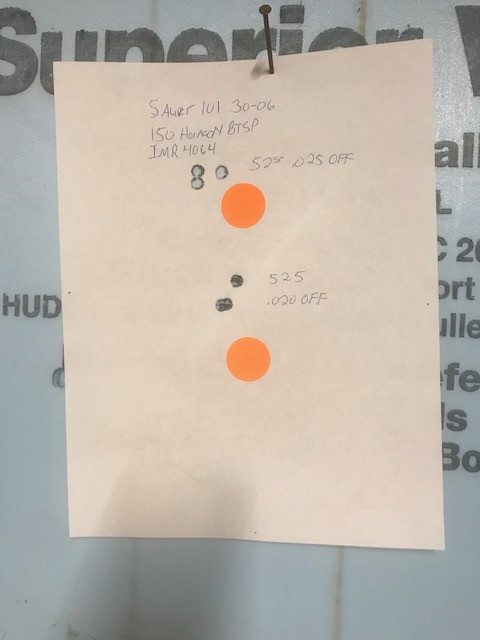 Since then I've picked up a boatload of the Sierra 150 PH's on a sale so I went to work on getting them shooting better. Every time I was shooting something I'd take 3 loaded up for the Sauer at .010 deeper than the last time. It steadily walked in tighter every time, albeit in small amounts. .050 off shot an inch, .060 off in the 9's, .070 off in the low 7's, then today I had 3 loaded at .080 off and it's down to .575. Gonna try .090 off yet and call it a wrap.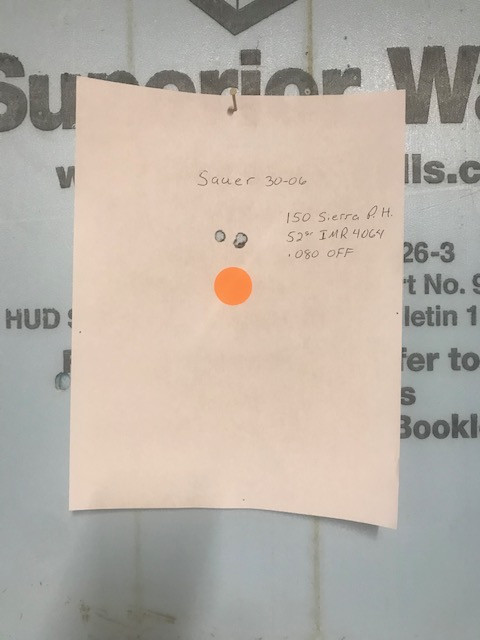 A day last week just for fun I tested a reduced load. IMR 4227 powder at 33 gr's and Hornady 130 SP's shoots very well in my M70. These are Speer 130 HP's so I initially loaded single loads below that coming up through watching speeds and pressure as it's a fast powder with a different bullet. Pretty much behaved right on course with the Hornady's.
I then loaded 3 each at 32, 32.5, and 33 grains at book length of 3.100 same as I did with the Hornady's and my M70. This rifle liked 32 grains and 2500 best instead of 33 grains and 2550 like my M70 did with the Hornady's. I pretty much came up with this load in blind testing before I had access to GRT, but it's been fantastic in both rifles I tested in so far. The Sauer shot this load just under 3/8".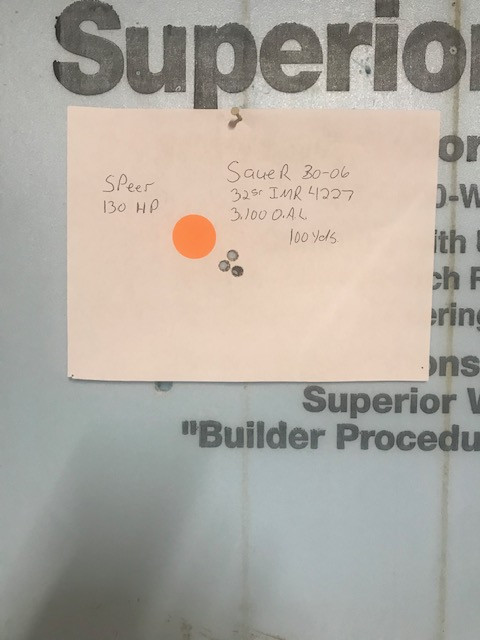 Sauer from today. So far this rifle has been able to shoot well every bullet I've fed it. Performs smooth and flawless from loading the magazine to chambering to ejection. Really can't fault it on anything except the operation of its safety is not my favorite design.