Using the keeping the same seating depth method of testing. Used the .040 off that shot in the 2's with a starting load of 48 gr's IMR 4064.
Made some slight scope adjustments and went right to 49.5 & 50.5 just looking at speeds and pressure. It put those 2 shots side by side within 3/8" and only 19 fps difference being a full grain apart, so that is likely a second lower velocity accuracy node. Speed was 2649 & 2668, so more 308 speeds with that bullet weight.
51 gr's shot at 1" on the button. Speed was 2725. Had to quit then because a heavy snow/ freezing rain front moved in.
Went back later in the afternoon when it quit & set up again.
51.5 shot .8 outside measurement, so high 4's CTC, just round it up and call it 1/2". Speed was 2757. E.S. 20.
52 did not shoot......had a flier that put it out over 1". Speed was 2790.
52.5 had the same flier, but it was came back towards center. Had 2 tight together and the flier put it in the 8's. Chrono did not record a single shot. Don't know if it was the dark low cloud cover and it couldn't pick it up, or if the battery needs replaced. Should be low 2800's.
Could try shooting 52.5 again, and could try 53 grains. GRT says 52.5 is right at the top of pressure. Bolt lift is fine, primers are flattening out, but still have a rounded edge, no typical pressure signs showing up yet, but I'd say I'm close to the top.
Or could just figure 51.5 gr's with IMR 4064 and move onto different powders. I have both IMR4350 & H4350 I could test with this bullet.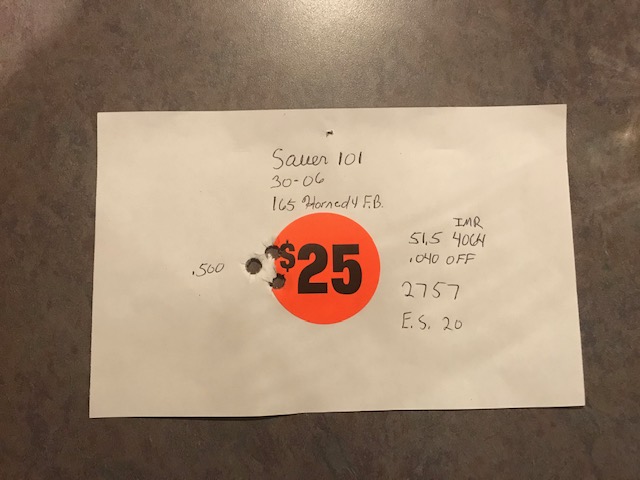 The 52.5 target.