Doesn't belong in the reloading section, so I put it here.
Been practicing open sight shooting with my lever 22. Makes for cheap practice and I can do it here at the house. Mostly just been taking 2 shots a day on different days. Evenings or whenever I get a chance, that way I have no muscle memory or sight picture memory from the shots before. Started out at 35 yds, then moved back to 50 once I got myself tuned up.
Today I loaded 10 in the tube and moved back to 100 yds. Sitting in the middle of the field propped off my knees.......no back support or sling support. Seated is how I take 90% of my shots in the woods, although usually have some back support against a tree.
Was shooting at a 9" plate. Wasn't checking shots at all so I had no idea if I was hitting the plate or not, just was trying to do the same thing every time. Was holding high to compensate for drop. Held too high overall apparently, but 9 of the 10 were in the plate, with the 10'th being just high. Target doesn't look like much when you're used to bench shooting, but propped off your knees only, with irons on a rifle with just a 15" sight radius is a whole different ballgame at 100 yds. At least for me.
The 9 that are in the plate measure 5.25" H X 5.75" W.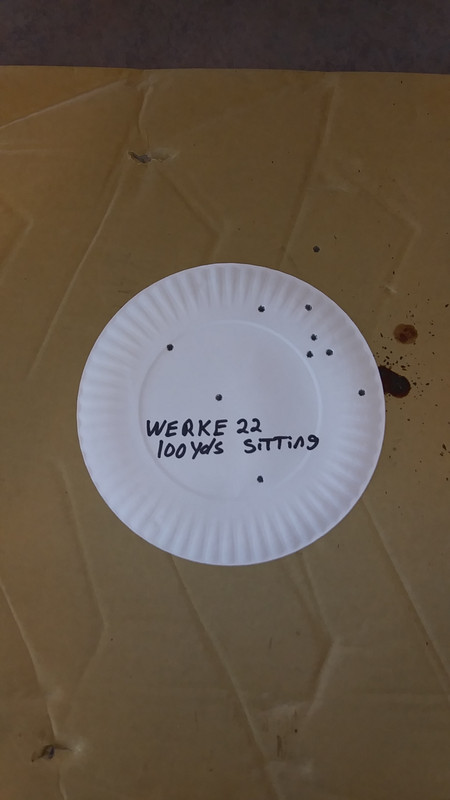 Pic of the 22 from today. Great practice.