Put on here I was happy with it before. Right out of the gate just using a load I came up with to try with 46 grains of Varget and using both 150 gr Hornady SP and Sierra GK's loaded to mag length of 2.800 it shot both right at 1.25". Decent enough and consistent with both. But trying some different loaded lengths didn't offer any improvement, and 788's can typically be made to shoot better than that.
Has cheap rings and a Simmons scope that upon farther investigation showed parallax at 100 yds. Was really bad at 50 yds. Don't have time before season to get the rings I want for it, but stripped it down to the receiver, cleaned out the tapped holes and remounted the weaver bases with proper torque. Mounted a nikon pro staff 3-9 I had here, cleaned the barrel again, and loaded up the same load.
Bore sighted it and used 2 shots to get close at 50. Went to 100 and it now shoots much better. Group measured .560. Can't beat em. No messing around installing pillars and bedding them, they just shoot. Move the scope 2-3 clicks to the left yet and it should be set for 1 of my scoped rifles if needed this season. Next yr I'll get good bases and rings for it and maybe see if any tuning can get it under 1/2".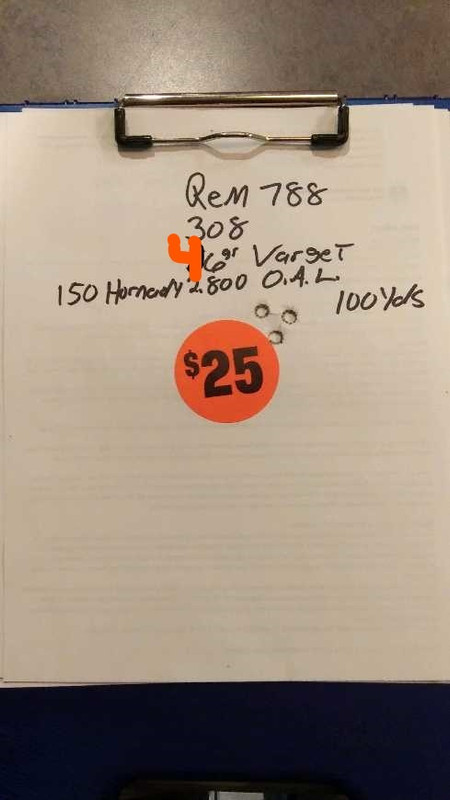 Some rifles feel like killers when you shoulder them and this is one for me. Short barrel makes it very point-able but the heavy contour keeps it well balanced and not light up front. The right length of pull for me, and a quiet and easy safety which I always like. I got $450 in it on trade and wouldn't sell it for $700. I like it.
Last edited: